Review of Tenn Tempest Pannier Rain Cover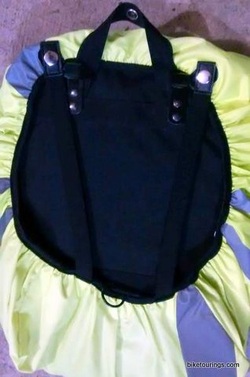 My ten year old
Axiom Cartier Panniers
have been in need of some good rain covers. After several years of being exposed to all sorts of weather conditions and UV rays the material (although very faded) of the old panniers is holding together quite well.
I considered replacing those old panniers with something similar as I like the design of the metal mounting hooks and swivel lever lock that holds them securely in place on front racks for bouncing along trails and such. I also have come to appreciate the heavy duty bungee and hook that not only keeps the panniers from swaying in turns but they also don't rattle like a lot of Ortlieb panniers with their locking mount system. After several years of service the bungees were wore out and so rather than buy new panniers I ordered the
axiom replacement pannier bungee
for each..While I would love to try the newer
axiom seymour panniers
the top mounting hooks and lever have been replaced with Rixen and Kaul adjustable hooks. It's an excellent mounting system getting excellent reviews and will be the next set of panniers I get before the end of the year. Until then I thought it a good idea to find some
good quality pannier rain covers
other than those available from
axiom.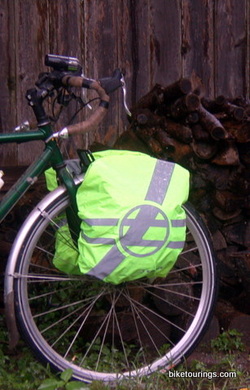 So, when I say I found some good quality rain covers, I sure enough did. Finding a reasonably priced set of
quality pannier rain covers
wasn't easy. As the rain covers from axiom combined with cost of newer model panniers previously described plus the cost for covering my older panniers I might just as well have purchased a set of
Vaude Aqua Back Cycling Panniers
that I have been considering.
Decisions made with budget constraints help me to find creative solutions to these considerations. After finding the
Tenn Tempest Waterproof Hi Viz Bag Cover
for ten bucks a pair with a better quality attachment system than any other pannier rain cover I looked at. Two elasticized straps placed at bottom of rain cover are stretched up along the backside of the pannier then attaching with two high quality metal snaps on top. It's an excellent design and feel much more durable than the
Camelbak Rain Cover
from a previous review. There is nothing wrong with the rain cover from Camelbak and it works great with my Camelbak Capo Hydration Pack as well as a pannier rain cover as is described in my other post.
Fortunately both of these rain covers can be adjusted to perfectly fit all of the panniers I currently own including but not limited to
Trek Pannier II Pack
,
Delta Compact Panniers
and
axiom Cartier Panniers
, subject of this post. Although the adjustment of the cinch style elasticized bungee sewn in around the perimeter of the Camelbak cover is more versatile, the
Tenn Tempest Cover
is very durable made of a,coated polyester with reflective trim and a nice high visibility greenish yellow that's very nice looking. Despite being made of a thicker more durable material these rain covers are surprisingly packable with ability to fold small enough to stuff in my pocket if need be. I have read reviews of water proofing panniers vs. getting a pannier rain cover where the most common complaint regarding rain covers is the backside or inside of the pannier being exposed to water and leaking through to the pannier's contents.
Perhaps it's due to the fact that I have previously used waterproofing spray on my Cartier Panniers but what I have considered more importantly is drainage. Due to the design of pannier rain covers the water that gets in pools up in the bottom of the rain cover. When that happens and the bottom of the pannier is soaking in that pool of water then the stuff in the pannier is likely to get damp if not soaked depending of course on how the bottom of the pannier is designed. To remedy this it is preferable to have a pannier made of a sturdy enough fabric for adding a grommet hole. It's an easy fix that works very well.
Grommet kits
are easy to use and very inexpensive with lots of other uses for do it yourselfers. If you're looking for an affordable quality waterproof pannier rain cover the Tenn Tempest Hi Viz Bag Cover is an excellent choice.
Links related to this topic
Camelbak Rain Cover, Versatile for Wet Weather Rides