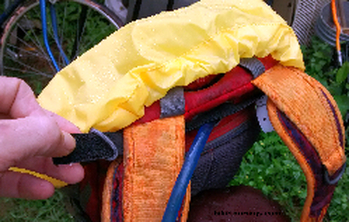 Spring is here with plenty of wet weather and being in need of a versatile rain cover for my hydration packs and panniers I combed through the options scrupulously.
I have a genuinely fond appreciation for my older
CamelBak Capo Hydration Pack
. Although it's one the company's discontinued models I have no reason to replace it. It is durable, comfortable and is perfect for camping, day hikes, bike packing and bicycle commuting all it needed was a rain cover. However, I was also looking for rain covers for my
Axiom Cartier Panniers
and
Delta Compact Panniers
.
One of the features I was looking for in a multi purpose rain cover was a way to secure the rain cover for very windy conditions. Most of the rain covers I had looked at were designed like over sized shower caps with only an elastic edge to hold the cover in place. Being a frugal fella I also wanted the rain cover to securely fit either of my two hydration packs as well as the aforementioned panniers. If you get to shopping for pannier rain covers you will find that some if not most of the good quality rain covers available designed specifically for bike panniers are a bit pricey and usually sold individually and not in pairs. I mean gee whiz, for a bit more fifty dollars I could get another set of panniers not just rain covers. Thus began my search for a bargain of versatility and my prize catch with the CamelBak Rain Cover, after all the answer had been staring me in the face with the need described for my CamelBak Capo.
This "blog about" is mostly to help resolve the mystery of how to attach CamelBak's Rain Cover. I read so many reviews where folks were frustrated and bewildered and ridiculing the company for not providing instructions at to how to attach this rain cover, see above photo. A velcro strap and loop is attached to the top of the rain cover which is designed to be passed under the top of the pack's straps, passed through the hole and looped back over to attach the bit of velcro on to the strap. Then pull the cover around the pack and cinch the bottom pull tab attached to a chord which is sewn in around the perimeter of the cover.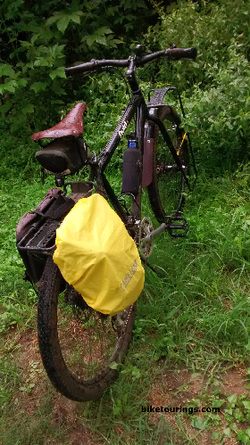 This is a good design for use on bike panniers being adjustable, lightweight, easy to use and durable. With the bright yellow day light visibility color made of coated nylon and reflective lettering make it an excellent choice for bicycle commuting. Photo at left shows the excellent fit for my Delta Compact Panniers of 16L capacity which I use only for bike commuting as their ease of use and simple design fit my needs.
I also put this rain cover on my fully loaded Axiom Cartier Panniers for bike touring and camping with a capacity of 2013 cu. in. or 33L each and the Small Medium rain cover fits perfectly. Due to the adjustable design this rain cover also fits my
High Sierra Splash 70 Hydration Pack
which I prefer to use during the summer and for longer rides due to its' mere 368 cu. in. capacity though it has a 2 litre reservoir.
Because of the multiple panniers and packs I can use the CamelBak Rain Cover on I felt a wee bit obliged to share this information.
CamelBak Rain Cover
is available in two sizes of Small to Medium designed to fit capacity of 1000 and 1500 cu in or 16L to 25L or Mediium to Large for 500 and 2300 cu in or 25L to 38L.
CamelBak Hydration Packs
designed for different types of bicycling typically use the Small to Medium size even on packs designed to carry additional gear on the outside of the pack.
Use any of the bold underlined links provided for more information or to purchase. Happy trails, keep pedalin' and enjoy!