Solar Powered Charger and USB Devices for Bike Travel

Click on photo for product information and see the bicycle touring experts using the innovative products discussed in this article.
We aren't new to benefiting from Solar powered products. Ten years ago when we built our cabin in Colorado we used very simple Panels and golf cart batteries. New innovations and designs have improved charge times as well as portable qualities for today's devices. Photo at right shows our current Dome Workshop, photo at left is Voltaic Systems 1023 Fuse 10W Solar Laptop Charger, 14-20V/4A Input, 16,000mAh, 60 Watt Hour Capacity. Wow, beautiful. I have provided a link below for two of their most popular products for bicycle touring. Here's a link to a

one year review

from Darren Alff of Bicycle Touring Pro,
| | | |
| --- | --- | --- |
| | Folks at Rivendell turned me on to Cygolite Products after everyone at their shop decided to add one to their bikes. After looking at run time, charge time and durability factors I've decided to get the Cygolite Metro 300 based on qualities listed. Plus ability to charge via USB this is a perfect lighting kit to recharge from the Voltaic Panels while touring or recharge at office for evening bicycle commutes. | |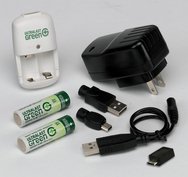 Combining the C Crane Bike Travel Radio with this AA, AAA battery USB battery charger provides a convenient way to power many bike touring gadgets.
UltraLast Green 2AA/AAA/USB On-the-Go Charger with 2 AA Everyday Precharged Batteries is one of the best reviewed battery chargers of its kind. Small, lightweight and added convenience of AC/DC USB charging methods it's tough to beat this charger considering price and proven quality.
For my "blog about" regarding the
C Crane Travel Radio and USB rechargeable Front Bike Light Click Here.