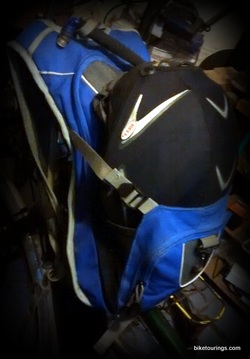 There is nothing wrong with touting good equipment when you find it. Particularly when it delivers more than expected. This can be said of the quality and affordable hydration packs from
High Sierra
.
Most of my gear for bike touring and commuting has been of such good quality I haven't had to replace anything for ten years or more. Might have something to do that I don't feel the need to keep up with bike fashion trends or the latest greatest gadget. When a friend stepped on my twelve year old Nalgene hydration pack and broke the plastic buckle I considered replacing it. Later after all the fuss of BPA Free hydration containers I decided to look for a new hydration pack.
Whenever I replace a substantial piece of everyday riding equipment I consider what I didn't like about the item (seems there is always something) and look for a product that meets that criteria of "new and improved". T
hings I was looking for were an ergonomically designed bike specific hydration pack, two litre reservoir, simple strap system and a way to store my helmet when not in use.
I located just such a critter last year with the
High Sierra Splash 70
which has been replaced this year with the
Quick Shot 70
. I'm not exactly sure what they improved in the newer model compared to mine as I am quite satisfied with it's rugged design, insulated tube to prevent freezing, surprisingly adequate cargo capacity with a 2 litre reservoir and very waterproof. Other than removing the so called "monster hook" for adding extra items to the outside of the pack such as a sunglasses case, visor or hat. Listed specifications of the two packs are identical other than the differences mentioned. By following links provided you will see how well reviewed both models of this hydration pack have been.
Large, front-load main compartment
Separate, side-access hydration reservoir compartment makes it easy to access your water supply
2-liter hydration system has a wide opening reservoir for easy filling and cleaning. System is BPA free and antimicrobial
Hands-free reservoir pressure valve Insulated water tube cover helps to prevent water from freezing in the tube
Hinged front pocket holds a helmet. Front zippered pocket holds bicycle tools, accessories or media player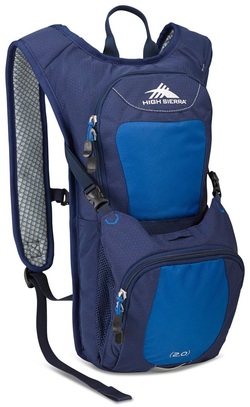 An example of how much stuff I have been able to fit into this pack with a three quarter full reservoir. Topeak Hexus Multi Tool, Tire Jack and tire levers, wallet, cell phone, three energy snack bars, bike gloves, beanie or stocking cap, Planet Bike Sport Spot Helmet Light, Packable Windproof Shell, leg warmers, arm warmers, rear clip light for the included relective clip strap and when I am wearing my helmet the external pocket holds quite a bit of whatever I want to stash in it.
What did I like best about it? The price. When I purchased my old Nalgene pack it was sixty five bucks with my employee discount while I paid a mere thirty five bucks for this new and improved pack not to mention it was ten years later!
I have been using my High Sierra Hydration Pack for a solid year now on camping trips, bike touring, mountain biking and commuting and it still looks like new. Click on any photos or links provided in this post for information or to purchase.
Links related to this article
Variation of Hydration