Summer may be starting to wind down, but it's still hot and dry here near the Texas Gulf Coast with temperatures tipping a hundred degrees most days. Considering the importance of staying hydrated felt it a good idea to give it a "blog about".

While riding in Southeastern New Mexico I discovered the need of an insulated water bottle like the ones pictured from Polar. Foil insulation built into the bottle so that the bottle can be placed in the fridge or freezer for added cooling. With 20 and 24oz. capacities it's nice to have ample supply of cool drinking water when temperatures rise as they tend to during "dog days of August". I prefer to use water containers that are not plastic, however these are now BPA free with toxic plastic hardeners removed. Another bonus is that they're made in the U.S.A., quote from their site:
| | |
| --- | --- |
| | "At Polar Bottle, we take great pride in producing an American-made product that supports our own local and national economies by providing employment to local workers. Our products are assembled in, and shipped from, our warehouse in Boulder, Colorado with parts sourced from the USA." |
---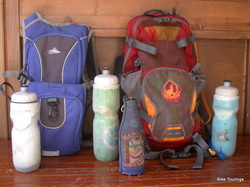 Hydration packs have become very popular and are often designed for specific activities. Camelbak has been setting the standard for most activity specific packs such as mountain biking, road riding, commuting, etc. Two models shown at right are both cycling specific packs with different capacities and packing space. Ol' Camelbak Capo has added ability to put things on it, not just in it with adjustable straps. While the High Sierra Splash 70 pack is excellent for longer rides without added weight on the back yet has the same bladder capacity.

I prefer the Camelbak hands free Antidote Reservoir as another BPA free product with proven quality. hands free mode is nice to have when commuting in traffic or when fatigued.
Straps for small tent, sleeping bag with room for other supplies are nice added features for various types of bike travel. Use as carry on, etc.or for mountain biking over night excursions. Solid, well built pack from Camelbak.

For the convenience of easy hydration and/or ability to carry more water for bike touring on longer trips checkout Camelbak's line of cyclist specific hydration packs. For mountain biking, commuting, touring or road there is a hydration pack designed to fill your needs. Made from BPA free materials, Camelbak has played a major role in hydration pack design and quality standards for the industry. Ergonomically designed for men and women in a variety of sizes, designs and capacities.CamelBak has built its reputation by engineering products that exceed consumer expectations for quality and durability. In 2011, CamelBak introduced the Got Your Bak™ Lifetime Guarantee for all reservoirs, backpacks, bottles and accessories. The Got Your Bak™ Lifetime Guarantee covers all reservoirs, backpacks, bottles and accessories from manufacturing defects in materials and workmanship for the lifetime of the product. Click logo on right for more information.


Simpler design for longer rides includes insulated reservoir hose sleeve and breathable mesh shoulder straps. I very nice design for hot weather riding with room for tools, spare tube, wallet and phone.

"Ride the Energy of your own unique Spirit."