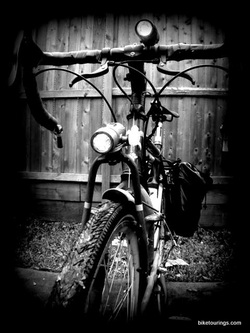 Over the years I have tried several different brands of front bike lights. Finding a good balance of battery run time and emitting enough light to see rural unlit roads when need be.

For mixed conditions this is referred to as "see" or "be seen" the latter referring to the flashing or strobing front bike light. When LED's hit the market several years ago it was a nice improvement for bike light technology. As a former bike shop owner I tried out several not only for myself but I was looking to provide my loyal customers with a quality product based on their needs and complaints of the bike light they were currently using.

Most common of the complaints was not being able to see well enough on unlit rural roads during their commutes. As my riding took me along busy roads as well as those same dark roads my customers were referring to I found having both a good strobing light combined with a bright solid light was the best combination given the options at the time. Drivers seem to associate a strobing light with movement. That is to say that when a driver sees a strobing light they assume that whatever the white strobing light is it is in motion and contributes to a rider's safety. Turning from a road that is well travelled with traffic to a dark unlit road with potential pot hole or other unseen road hazards having a solid bright torch to flip on works very well. Upper left photo is a touring bike also used for commuting with a now discontinued Dura Vision Pro that requires four AAA batteries but has a very long run time of approximately 120 hours in strobing mode and is mounted to the front rack. A Cateye HL-EL520 requires four AA batteries, is very bulky, does not have a strobe function, rather has two solid light mode settings but has a battery run time of approximately 150 hours with a mountain bracket to fit 31.8 mm bars. That size mounting bracket was actually pretty hard to find on a decent light several years ago. The brighter setting combined with the strobing Duravision Pro worked very well ten years ago and are still working well to this day. Links to a few quality bike lights are provided below.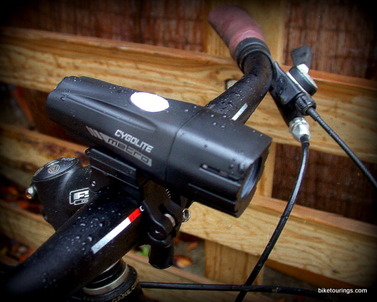 Times have changed with brighter, USB rechargeable Lithium Ion bike lights which are very well made, durable, water proof or water resistant and of course they will all fit an over size handlebar. With these new improvements to bike commuter safety the same challenges of finding a light with a good balance of a long lasting battery and bright enough to see with still remains.
After much research last year and many commutes later I highly recommend the
Cygolite Metro 300
to anyone looking for a new front bike light for commuting. Small, light weight (110 grams) solidly built, USB rechargeable and the 25 hour battery is still the best choice available for the modest price of under fifty bucks.
Another added benefit is that this model has a strobing steady mode which pulses light and remains steady at the same time. Day Flash mode provides the 25 hour run time. Here are some specs. for run time at different modes. Note that the Cygolite 300 requires 5 hours to completely charge.
Med: 3:00 hours
High: 2:00 hours
Low: 13:00 hours
SteadyPulse™: 3:30
Flash: 25:00 hour
Other than the longer charge time of five hours compared to a one hour NIMH battery quick charger for the AAA batteries there is also the scenario of not being able to swap out a set of batteries if it begins to dim out. This happened on one of my longer bike commutes along a dimly lit pathway but I was able to put it on stroble mode to get home. This had me a bit concerned about winter commuting when the cold can significantly reduce the rated battery specifications. For this reason I keep my tried and true
Planet Bike Sport Spot 4
which can either be worn on a helmet or handlebar. It's small enough to keep in my pack is very bright with 100 hour run time and runs on three AAA batteries. While commuting in Portland at night for a few hours I was really glad I had the option to swap in fresh batteries I had carried with me for the ride home.
Of all the front bike lights I own the
Cygolite Metro 300
is certainly the brightest and offers superb versatility. An easy fix for the non replaceable battery concern would be to carry a power stick typically used for cell phones as a back up power source particularly if it's a very long, chilly commute.
That about covers most of various bike lights I have found to be of affordable quality with their varying qualities. If you're looking for a USB rechargeable battery option, by that I mean removable batteries that can be charged via USB with a second battery option of rechargeable AAA batteries then consider this model from
Magnus Innovations
.
Still affordable at less than a hundred bucks but is an excellent choice providing the optional power sources just described.
Links related to this topic:
Cygolite and Helmet Mount Kit