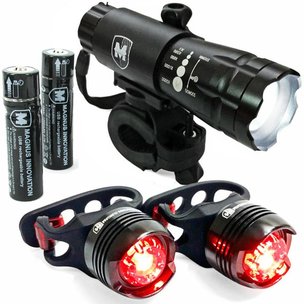 Replaceable USB Lithium Ion batteries with option to use AAA batteries, adjustable beam for spotlight or flood, aluminum construction, waterproof with a lifetime guarantee. That's right, all these features including two high quality versatile tail lights for less than a hundred bucks.
The folks at
Magnus Innovations
have put together a very high quality bike lighting system that I like even better than my
Cygolite Metro 300
, which is really saying something about the quality of the front light. Cygolite does not supply replaceable Li-ion batteries and most front bike lights don't that are rechargeable via USB.
Magnus Innovations
has provided not only the ability to replace the batteries should they wear out but also provides ability to swap out the battery if it should dim on your commute home. Photo at left shows the two USB rechargeable batteries with removable caps, the front light only requires one to run. What is not shown in the company's product photo is the AAA battery pack which can be used in place of one of the supplied batteries shown. The AAA battery pack requires three AAA batteries, not included in package.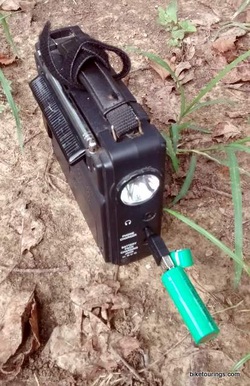 For typical bike commuting this light kit is more than enough and for safely navigating dark unlit streets the lumens are at least equal to that of the Cygolite if not more. Last week I had some errands to run and was riding home after dark when I noticed the Cygolite was beginning to dim with the steady flash mode I was using in combined lighting situations. I thought it would be nice if I could swap a battery in for the rest of the commute as I wanted to take the more quiet but unlit side streets. One of the reasons I like this option from Magnus Innovations better than the Cygolite.
For bike touring and camping this is a real boon for us as we can easily recharge a Li-ion battery with our
C Crane Solar Observer Radio
which is another fun addition to a
Bike Camping Kit
. Though I can recharge my Cygolite the same way, I have to wait for it to recharge before I have a front light that is ready to use. Not so with this kit. And if both Li-ion batteries should need charging there is of course the AAA Nimh rechargeable option.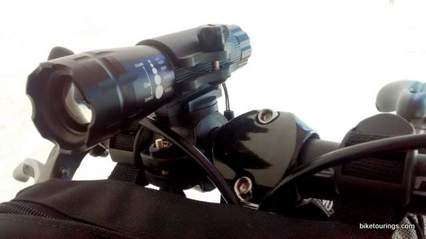 Photo at right shows the adjustable beam from
Magnus Innovations
by simply turning the end of light as you would a mag lite, another feature not found on my Cygolite. A swivel base like that on the Cygolite is more of a ratcheting sound and feel with the
Magnus light
. With the aluminum construction it feels sturdier and much more solid than any other bike light I have seen at this price range. Threaded metal clamp not only provides a sturdy solid feel but also makes it easy to adjust to different handlebar widths with tough foam rubber padding.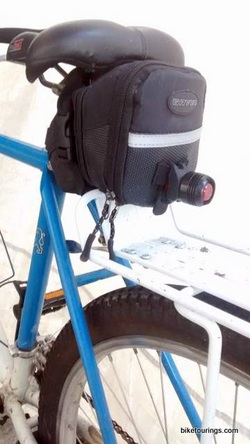 As if all this weren't enough there is more quality to be described in the two included tail lights. These lights require a simple button style battery and are turned on and off by pressing on the light's lens as a button. A rubber adjustable strap for mounting mean the light can easily be removed for either theft prevention or for putting on another bike.

I bought this kit for Lisa who lacks good night vision. She would routinely complain and have to reduce commuting speed significantly to feel safe at night. I had purchased the Planet Bike Beamer 5 for her a couple years ago and I was always using the swivel action on my Cygolite to help light her way. Now that she has this new bike light kit she actually commented that the strobe was so bright that it was a bit annoying. There are three modes of strobe, steady and brighter steady, which has proven to be more than sufficient bike commuting light for any situation including bike touring and camping.

I enjoy finding affordable quality products to share with Lisa as gifts and getting to write these reviews is fun too. As I continue to add appropriate gear to her "new to her" restored '89 Peugeot Canyon Express I have plenty of reviews to look forward to.