Versatile Single Wheel Bike Trailers Reviewed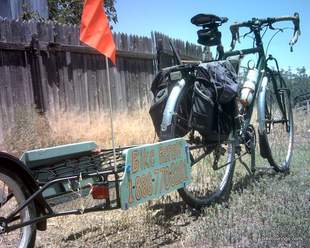 Of all the various bicycle cargo trailers including those offering two wheel designs for bike commuting and touring we prefer a single wheel bike trailer for its' versatile maneuverability. Riding narrow bike lanes, multi use pathways and casual trail riding a quality steel frame trailer is both fun and practical for carrying gear or groceries with a single wheel design. Another advantage to the two wheel design is the tire is less likely to get a flat.
One and only complaint I have ever heard from fellow bike folks is "it's a pain to load the trailer and connect it to the bike" due to the single wheel design where a two wheel trailer doesn't flop around. An easy fix is to install an
Pletscher Kickstand
which provides sturdy balance for the bike while connecting the trailer and loading it with gear. Photos above and left show the now discontinued
Nashbar Trailer
connected to my Touring Bike with the Pletscher Kickstand. Despite the mixed reviews of that old trailer I never had any problems with it other than it was a bit limiting as the attachment system made it difficult to switch the trailer between different bikes.
When Nashbar decided to discontinue their uniquely simple but at the same time kinda funky attachment system I started looking for a replacement. I have always appreciated the
Bob Trailer
knowing of their proven quality and reputation for having set the standard of single wheel bike trailer design. Consequently a lot of bike folks refer to all other single wheel bike trailers as "knock offs" of the original
Bob Yak Trailer
.
Photos above display some very nice bike trailers all of which are of good quality and thoughtful designs for both bike commuters and touring bikes. First photo of the
Maya Bicycle Cargo Trailer
features an integrated kickstand design at the front of the trailer which consists of two legs which fold down designed to help the cyclist attach their bike with less hassle. There is also a fold out set of handles above that which enables the bike trailer to be used in a wheel barrow like fashion and has a cargo weight capacity rating of sixty six pounds, pretty cool. Next is the
Bob Ibex Suspension Trailer
which is essentially the original
Bob Trailer
with three inch adjustable suspension added at the rear of the trailer to eliminate road shock and is very thoughtful for use with a mountain bike on trails and a suggested max cargo weight of seventy pounds. Then Topeak entered the bike trailer niche market with the
Topek Journey Trailer
which is designed to be lighter weight than its' competitors with an aluminum frame, improved attachment system and keeping up with cargo capacity rating of seventy pounds. Prices for the trailers listed above start at approximately $225 for the Maya Cycles Trailer and up to $500 bucks for the Topeak Journey Trailer. All of these bike trailers have their place in offering different features within the same basic design of a single wheel bike trailer.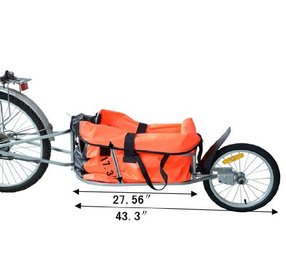 The fourth bike trailer reviewed here is based on finding a replacement for the budget friendly nashbar cargo bike trailer. At one time nashbar was selling their trailer for less than one hundred dollars and I wasn't so sure we would be able to find a suitable replacement until I came upon the
Aosom Solo Single Wheel Bicycle Cargo Trailer
also referred to as the Frugah Bike Trailer. As I have noticed this bike trailer sells online for less than one hundred dollars and some times approximately seventy bucks I have decided to order one despite the mixed reviews at amazon. Due to the fact that the attachment system seems to be very simple with included quick release skewer option this could allow me to use the trailer with my different bikes. I have been looking for a trailer like this where I can easily swap out the attachment for use on my commuter bike or touring bike as needed. As an avid bike mechanic I feel confident that because the trailer is made of steel I can easily resolve any of the issues discussed in the reviews including replacing bolts or hardware as necessary. One reviewer claims to have used this trailer for bike touring and has completed a 500 mile tour without issue other than one flat tire. He used this trailer with the original wheel and tire and is very satisfied with the trailer's performance hauling weight of fifty pounds easily. Manufacturer suggested maximum cargo weight is eighty eight pounds when compared to my old nashbar trailer that's more than twice the cargo weight capacity. I am also very interested in determining if the suspension system located on the stays of the trailer's wheel is of any benefit. I have ordered the Aosom Bike Trailer and paid a bit more than $70 which included the dry bag shown in photo and standard shipping. I'm excited to see overall quality of this bike trailer and will add a link here to my review of the trailer once I have had an opportunity to check it out. Ok, after a year of using this trailer I have included the link below for more information regarding the Aosom Bike Trailer.