ESSGE Pletscher Swiss Made Kickstand Reviewed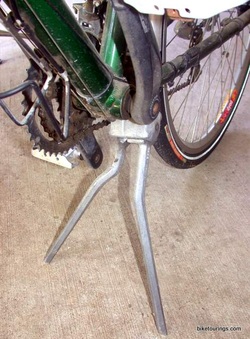 A few years ago I stopped in to visit one of my favorite bike shops in Durango, CO where I like the bike tech. Their shop had a new mascot in the form of a basset hound named "kickstand". Some irony when the tech took notice of my kickstand and wanted to know more information about it. For that reason I thought it would be a good idea to give the
Pletscher kickstand
a "blog about."
Looking for a stable way to load and unload your bike panniers?
Maybe you want to be able to have your bike supported while you clean the chain or perform some routine maintenance while touring. For the convenience of being able to do those types of things for your bike the most practical and quality assured method I have found is to install an
Esge Pletscher Two Leg Kickstand
or Pletscher Double Leg Center Mount Bicycle Stand, same thing with a different descriptive name.
Ease of installation combined with Swiss made quality makes the
Pletscher
quite possibly the best kickstand on the market. I have been using this kickstand for several years now completely hassle free. It does everything I need it to do and has provided such smooth handling while loading panniers and or a trailer. I don't imagine being without it. I have even used it as a stand for the bike which provides the ability to attach a rain tarp from my bike to the ground as a simple lean to type rain cover.
It is particularly nice when using a cargo trailer. I have read forums, heard people complain about fumbling around trying to put a loaded trailer onto their bicycle. What I prefer to do is put the bike up on the kickstand, attach the empty trailer, then load the trailer. I have sold this kickstand to several customers and the only time I heard someone complain about it is after they had decided to cut the 320mm legs shorter (don't do that) and then it wouldn't work as well on soft ground such as grass or sand where the extra length acts as stakes holding your bike steadily in place.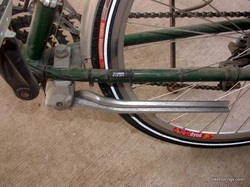 I wouldn't suggest using this for intense trail riding without securing with a small velcro strap or the like. However, I have gone up and down curbs, light trail riding and other so called stress tests and it maintained the riding position without dropping due to a very strong spring which snaps the kickstand into position for riding. After almost ten years of use it shows know indication of wear. Click on image to enlarge and see that it installs just like a regular kickstand.
For more information click on the image of the Pletscher above to purchase, read product reviews, etc. Get one and enjoy the ease of balance provided by this excellent product.
Cheers!