Aosom Solo Single-Wheel Bicycle Cargo Bike Trailer Reviewed
As mentioned in a previous post regarding the
Top Four Bike Trailers
here is the review of the
Aosom Single Wheel Bike Trailer
. First of all I want to say I like it and for the price of less than a hundred bucks including shipping it's excellent. Secondly it's the perfect trailer for anyone who has some aptitude for working on their own bike maintenance and repairs and this review explains why that is.
The trailer shipped incredibly fast and arrived within a couple days of having ordered it which barely gave me enough time to complete my top four bike trailer review. I worked late amidst a bit of a mess in my workshop to assemble and assess the overall quality of the packaging and contents. Every part was nicely wrapped securely with tape and bubble wrap but the dropouts were protruding out the end of the box, in photo above they are sticking through the cardboard on the right side. No big deal everything looked to be in order for a quick assembly of the product. Despite the sloppy english translation of the included instruction manual the photos are descriptively accurate.
For those interested in purchasing this trailer and have or intend to go about researching product reviews note that when read about folks complaining that "the wheel bearings cannot be adjusted" it's because the wheel has sealed cartridge bearings that are not adjustable as shown in photo at right. A bit of play in the hub is normal, a couple centimeters is alright. I have rode with a tiny bit of play with a sealed bearing hub from Velocity Dyad on my touring bike for hundreds of miles without any problem. Recommendations for purchasing a new wheel can be ignored unless there is too much play in the wheel. However the axle was shipped dry and can use a bit of grease for smoother performance.

As I mentioned the dropouts were poked through the cardboard shipping box and when I finished assembling this trailer the wheel was not aligned properly with the trailer main frame. I have used the Park Tool FFG-1 to repair much worse so this proved to be an easy fix shown in photo at right. Click on any of the photos to enlarge for viewing.

If this bike trailer's frame had been made from aluminum I would not have attempted to align the dropouts by "cold setting" with the Park Tool FFG-1 and instead would have had to inconveniently ship the trailer for a return. Two more things to look at and consider when purchasing this bike trailer. Remove the tire and check the rim tape, this one was twisted exposing the spoke nipples which would have most likely caused a flat.

Another consideration is upgrading the nylon 36 psi tire to something a bit more robust with a higher psi for better load carrying. I have heard of folks upgrading the Bob Trailer tire with a

16" x 1.95 Maxxis Hookworm

which is a very tough long wearing tire in any of its' available sizes.
In summary I would recommend this trailer for anyone who is either an avid DIY person or take the trailer to your local bike shop for assembly including upgrading rim tape, tire and coating axle with grease. Any other repair needs that might occur during shipping can easily be repaired at a local bike shop. For less than a hundred bucks this trailer is a winner. We have had fun test riding this little trailer with our own dry bag and cargo net that I used with my nashbar trailer. The Aosom Bike Trailer's rather basic suspension has proven to work good enough in absorbing small bumps through pot holes and handled very well at the local bike and skate park where we took it for a good test ride.
Links related to this article:
Top Four Bike Trailers for Touring and Commuting
Nashbar Cargo Trailer Review
Panniers VS Trailer for Bike Touring
Aosom Single Wheel Bike trailer, One Year Update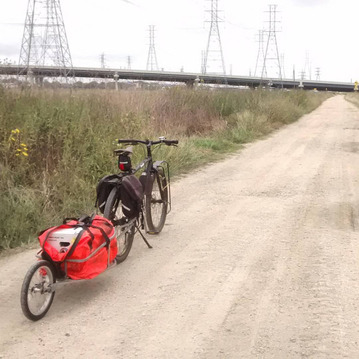 Photo at left shows the
Aosom Bike Trailer
being used for food deliveries on a fairly bumpy gravel road. Average weight of twenty five to thirty five pounds and the trailer has performed solidly including the jicky looking suspension.
After using this trailer for several deliveries over the past year over varying terrain I have no complaints as the trailer has more than paid for itself and continues to earn a few bucks as a reliable means when using a bike to deliver food for our
organic country store.
When loaded to twenty pounds the trailer's suspension works just fine, much more than than begins to flatten the suspension out. Even with fifty pounds or more the trailer has proven to be very capable.