Quality Waterproof Fabric Maintenance
It's getting to be that time of year of rain and depending on what part of the world you live in that might mean rain, rain and more rain. For most bike commuting purposes it's a necessity to have at least some waterproofing methods for fabrics and a way in which to maintain the waterproofness of those fabrics. Some things can't handle getting wet, though I'm not one of them it's important to protect some of your belongings while on bike touring or commuting. Our two favorite products to help achieve that goal are discussed here and for less than twenty bucks will provide years of quality waterproofing and maintenance.
In previous blog articles the topic of finding excellent deals at thrift stores regarding water proof or other cycling apparel is a lot of fun and saves money. Also discussed was being able to add waterproofing to most popular fabrics which are water resistant. Another very important product to keep on the shelf is
Atsko Sport Wash
. This is especially important for restoring various water proof and water resistant fabrics found at thrift stores, which more often than not were not properly cared for and is why most folks donate them
Not only does Sport Wash work effectively to restore waterproofing it also works just as well for down sleeping bags that have lost their so called "loft" which is due to clumping or improper storage. I have used Atsko Sport Wash to maintain the loft of an old North Face down sleeping bag for restoring its' temperature rating. Information provided below, click on photo for more information or to purchase. Another inexpensive item for your bike commuting apparel is Kiwi Camp Dry. I have mentioned this in a previous post and is an excellent waterproofing product. After treating fabrics with Kiwi Camp Dry, maintaining the water proof treatment can be maintained when washed with Atsko Sport Wash.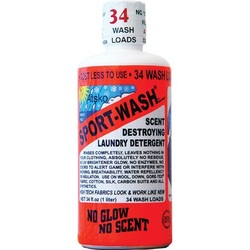 Restores & maintains the high performance features of technical fabrics
Helps restore factory applied waterproofing
Rinses away completely leaving no residue
Cleans and deodorizes. Leaves no scent
Safe for all washables. Contains no bleach, phosphate, or fabric softener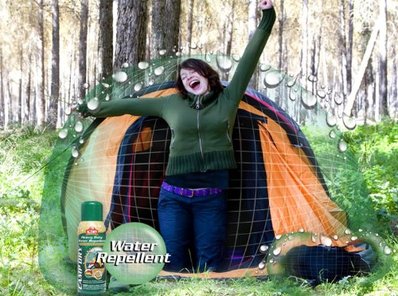 Kiwi Camp Dry Heavy Duty Water Repellent
is excellent for waterproofing tents, panniers, hydration packs, cycling jackets and more. Some of my favorite panniers from Axiom are water resistant but not waterproof. And often times I prefer some of the mounting systems or versatility of the more water resistant panniers as opposed to the day glow pvc type panniers like ortlieb and such. Adding a coat of
Kiwi Water Repellent
really helps to add a lot more waterproofing than may or may not have been applied at the factory. Two products which have been used by lots of bike touring folks and all sorts of outdoor enthusiasts for years are tried and true products that work. And when these two products are put to work together it is even more effective for maintaining water repellency for bike touring and commuting.
Links related to this topic:
Axiom Cartier Panniers, Water Resistant Good Enough
Bike Commuting in Wet Weather