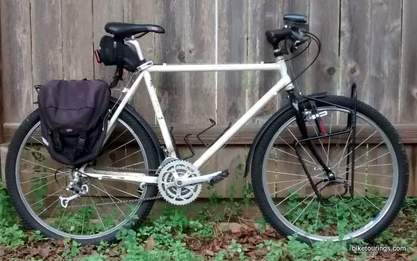 It's Friday night with thunder and clouds threatening to dump much needed precipitation while I smugly appreciate my extra efforts last night to get some fenders on my Bridgestone MB 1.
Wanting to thank
United Bike Supply
for providing these uniquely designed as well as uniquely inexpensive fenders for 26" wheels. I have had this set of fenders taking up some much needed work and storage space in the
Dome Workshop
for almost a year. Like most bike geeks I have a way of accumulating bike accessories and components "so that I have it".
These Fenders
are just such an item and were still int original packaging tossed into a spare parts box as cheap and not quite worthless.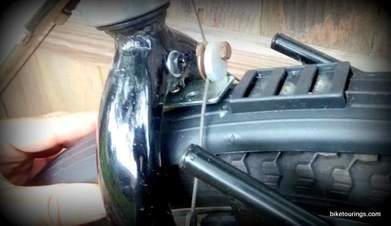 Earlier this year while we were beach camping in Matagorda, TX and hitting the trails we found ourselves removing fenders to get extra mud clearance. Luckily we had tools with us so it wasn't an issue but having the option for tool free fender removal as needed is exceptionally nice. Photo at right shows steel bracket plate with fender being easily slid off by pushing the fender forward. If the bracket were mounted the other direction the fender might work itself loose and slide off.
Another thing that I find unique to these fenders is the full coverage of the rear fender protecting the front derailleur, which is really what I like in a rear fender to reduce a bit of maintenance for commuting. Many full coverage rear fenders require extra stays particularly for 26" wheels.
Maybe it's because I'm from Portland, Oregon where fenders and coffee are the norm and I get excited about getting a bike for touring and commuting ready and it just doesn't feel complete without fenders. Cheers! to United Bike Supply of Oregon, pleasant surprises and of course TGIF Thank Goodness I have Fenders. After posting this article I found these same fenders on Amazon listed as
XLC Clip on Fender Set MTB Black
. The XLC set at Amazon seems to be identical to the set I received from
United Bike Supply
exception being my set doesn't have the XLC logo on the fenders.