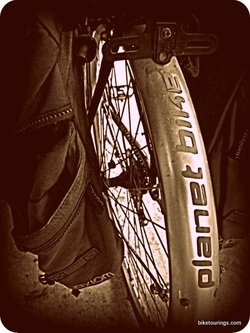 Having lived in the Pacific Northwest for so many years I found fenders to be indispensable for bike touring and commuting. So much so in that climate fenders might be considered a component rather than an accessory and there is a vast selection of fenders on the market for most any application. From full suspension mud guard fenders, convertible fenders to full coverage fenders.
Fenders can also add style and panache to your favorite ride. Bamboo and wood fenders, chrome hammered fenders, with or without mud flaps, mud flap add on's and more. For mountain bike frames there are velcro splash guard style fenders which attach to the down tube or the front or wedge insert for suspension fork.
Rather than continue running down the rest of the list I just wanted to share what has become our favorite fender company. Planet Bike not only created a line of quality fenders at a good price a twenty five percent of their sales go toward
bike advocacy
.
For 700c full coverage loaded touring I prefer the Planet Bike Cascadia Fender which is made from a poly carbonate polished aluminum for unbreakable all weather protection. We also like the Freddy Fenders Hardcore polycarbonate all weather full coverage fenders for about twenty bucks less than the Cascadia. Nice thing about the models discussed here is they are also available in "Speed Ez" models featuring tool free removal of fenders for traveling. These models are offered in both 700c Hybrid and Touring or 26" ATB and mountain bike.
For a more stylish look is the Grasshopper made of sustainable Moso Bamboo. All of Planet Bike full coverage fender sets include stainless steel hardware for ease of installation and are compatible with disc brake.
Planet Bike Fenders for Bicycle Touring and Commuting