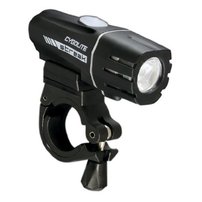 For quality lighting while bicycle touring or commuting check out Cygolite USB Li Ion rechargeable bicycle lights. Available in 280, 300 or 500 lumens there is a lighting solution for every cyclist's needs for camp or commuting home after sundown. With the USB charger the light can be recharged with the C Crane Travel Radio for bicycle touring convenience.

---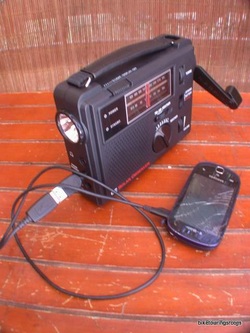 While on a camping trip earlier this year I decided to look for a convenient way to charge my phone while bike touring. After a bit of research and receiving a gift card
Found a very practical weather radio for bike touring and camping.
C Crane Solar Observer
packs the following features into a compact, lightweight unit. Solar panel, dynamo hand crank, three led flashlight, USB phone charger adapter, am/fm and weather radio.
First model I received had a problem with station indicator needle after about five months. However, it may have been dropped on the cement by a fellow who was helping me with an outdoor work project. Reviews of this radio are so good I figured it was worth getting another one.
I simply returned it for an exchange without a hassle. This model weighs less than the pocket radio model at only one pound and at 7.25" wide by 5.5" tall and 2" deep it is small enough and light enough to pack in my hydration pack with headphones if I want to listen to weather and wind warnings along the coast. Which brings me to another point. Being able to listen to weather forecasts without having to rely on cell phone coverage for information can be very important depending on where you live. Winds can have more effect on schedule changes when traveling by bicycle than any other factor. It's easy to account for hill climbs and known terrain factors when trip planning. I experienced this along the Texas Gulf Coast when the winds picked up to twenty plus miles per hour causing a two hour trip delay. If I would have been able to listen to the changing weather patterns I would have been able to plan for that.
There are many new solar power options on the market and our Bike Hermit friend at
Bike Touring News
has some thorough information on this subject of recharging electronic devices while touring. Another good article is from Darren Alf of Bicycle Touring Pro where he shares his one year review of
Voltaic Fuse Solar Charger
. One of the nice options of this radio are ability to use the hand crank to wind up power to charge battery at night or plug in with optional AC adapter. Depending on what types of electronic devices you might use the portable solar market is very popular.
Thing I like is you don't have to have the radio turned on to charge the phone. This of course conserves battery power for other functions. Fun, convenient way to relax at the campsite after a long day in the saddle knowing you can always charge your phone, listen to music, use a flashlight and check weather without having to worry about batteries. Speaking of which, getting a USB NIMH battery charger for AA, AAA batteries to charge bike lights, etc. is another nice option as well as having a second set of batteries for the radio. Good Stuff.
Important Note
: It is necessary to purchase the
AC charging adapter
(sold separately) in order to fully charge the built in battery pack. If you don't purchase the AC adapter and only charge the batteries in direct sunlight the batteries will run the radio for four to six hours according C Crane's owner's manual. Here's a quote from their manual:
Power by Charging Adapter (optional accessory not included) —"
To fully charge the battery pack, keep the charging
adapter plugged in overnight. When the battery pack is fully charged, the
radio should play for over 15 hours.
Note:
The
AC Charging Adapter
should only be used to charge the battery
pack and should not be used to power the radio on a constant basis.
Leaving the charging adapter plugged into the radio for long periods of
time will shorten the life of the internal battery pack.
In order for the radio to have enough power stored in the battery pack to charge a cell phone the AC adapter is necessary to supply a full charge to the battery pack.
Specifications for C Crane Solar Observer Radio

FREQUENCY COVERAGE
FM Band: 87.5 - 108 MHz Stereo
AM Band: 520 - 1710 kHz
WX Band: 162.40 - 162.55 MHz
POWER SOURCE
Batteries: 3 "AA" size
Internal Battery Pack: NiMH 2/3 AA 650 mAh
Battery Pack Charging Jack: Internal Battery Pack can be
charged with optional AC Adapter - 5V 300mA DC
Winding Generator: 300-500 mA (DC depending on RPM.)
Solar Panel: 20-40 mA DC (Depending on sunlight intensity.)
POWER CONSUMPTION AT MODERATE VOLUME
AM: 38mA
FM: 45mA
Weather: 45mA
Flashlight: 23mA
Display light: 5mA
AUDIO
Speaker: 2.5"
ANTENNA
FM and Weather Band: Telescopic whip antenna
AM Band: Built-in Ferrite Bar
WEIGHT AND DIMENSIONS
Weight: 1 lb.
Dimensions: 7.25" W x 5.5" H x 2" D
HEADPHONE JACK
1/8" (3.5mm) – Will accept stereo or mono jacks