Moto G 4G LTE with Gorilla Glass, Great Shield Case Kickstand and Ahue Beeboard Silicone Keyboard for Bicycle Touring and Commuting.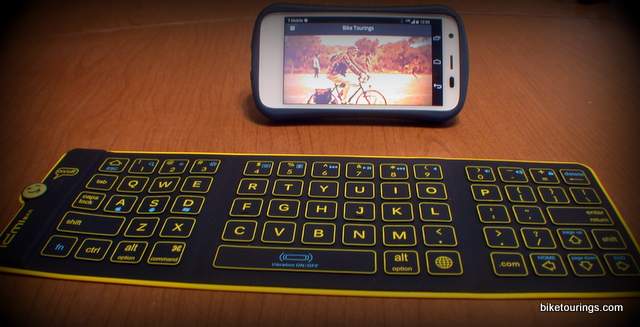 Great Shield Case for Moto G 4g LTE and Adock Silicone Keyboard. Lightweight, practical, packs small. Good Stuff for bike travel.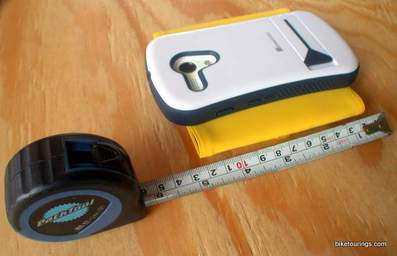 It's back to school week around here and with all the back to school shopping we found ourselves finding new gadgets for bike camping while maintaining our ability to conduct business from anywhere, even while bike commuting and touring.
This week when our wifi network went down due to some hungry squirrels nibbling on the network cables we were forced to learn a new way of staying connected to the internet for our business needs. I have been finding the need to keep up with technology a bit anyhow so the situation turned out to be a blessing disguised as a squirrel. I had just happened to pick up an external keyboard for my wife's Sony Xperia Z allowing her to keep up with emails and such.
Ahue Beeboard Foldable Slim Silicone Bluetooth Keyboard Wireless Waterproof for Ipad Iphone Android Smart Phone
. Wow! Quite a cool idea and for less than twenty bucks I grabbed one. Perfect for camping or just keeping in a bag, purse or backpack for convenient and faster typing when needed. So while the house wifi was temporarily down I learned that I could use my new phone as a mobile wifi device! Now that is very good news for an owner of a
Chromebook
.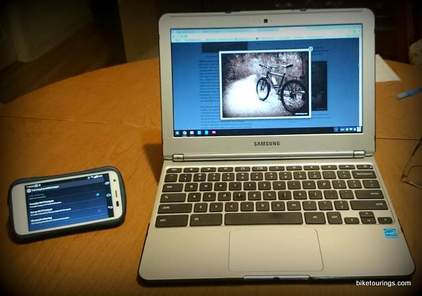 I had been using an old forty dollar phone for quite awhile as the only application I depended on for work was the GPS. When the cracked screen was simply too hard to read and not responding well I decided to upgrade to a new phone and very glad I did. I got the new
Moto G 4G LTE
that is supposed to be splash proof and has Corning Gorilla Glass, a few features I felt necessary to look for in a bike commuting and touring phone. As it turns out a few folks have tested the Moto G and found it is actually waterproof! I wouldn't try any of their tests myself but it's good to know that the Moto G is proving time and again as possibly the best budget phone on the market and is perfect for pairing with my
Chromebook
. Now I can stay in touch with work while bike camping or on a short bike tour by "tethering" with the Moto G and Chromebook. My ability to stay in touch with work has been a very important factor determining whether or not I could even go on some of by bike camping excursions and for approximately $400 for the Moto G and the Chromebook I am more than pleased with my bike travel gadgets. Here's a link for one of the
Moto G waterproof tests.
In the above photos the Moto G is held with the
GreatShield Guardian Hybrid Case Protective Cover with Kickstand for Motorola Moto G
for viewing while for example, using the
Ahue Beeboard Silicone Keyboard
. Which is very nice as the on screen key pad of the Moto G can take up a lot of screen space when editing a document. With the Adock Keyboard I am able to view all of my content to be edited as once the keyboard is paired with the phone as a blue tooth device the onscreen keypad turns itself off. Pretty cool.
Now with the ability for "tethering wifi" a term which is new to me, issues regarding the Chromebook as a quality inexpensive laptop for bike travel are being resolved.