Bicycle Commuting Winter Helmet Accessories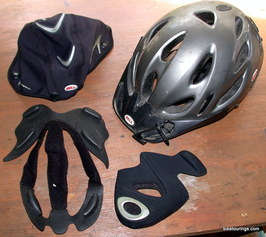 '05 Bell Metro with mirror, rain shield and winter kit
I'm one of many folks who feel bike helmets are (for the most part) ugly. Many style changes have been introduced particularly when it comes to commuting. Seems to me there's been more focus on form rather than function in some of the new helmet designs for bike commuting as they lack sufficient venting for warm weather riding. Turns out that the trend of this style serves a practical matter as the rounded back portion of the helmet has been proven to be much safer for cyclists.
Approximately ten years ago I purchased a titanium colored Bell Metro in size medium and is a wonderfully cozy helmet in both style and with accessory functionality. Form and function proved to be implemented in a very practical manner.
Photo here is of my '05 Bell Metro with
flip mirror on visor
, totally waterproof snap on rain shield,
winter liner
and ear muffs. Rode with this in hundred plus weather and my helmet proved to have just enough vents and the titanium color works well to deflect heat.
If you're an owner of one of these gems of a helmet you can still purchase the foam rubber
Winter Kit
that fits into the air vents for warmth. The ear muffs that slide on to the helmet strap is such a nice design in that while providing ample ear warmth on cold frigid days, it does not impair hearing for safe commuting. There are varying opinions on the visor mirror, or flip mirror but I like it just fine. Have been able to position the mirror so when I ride my touring bike whether I'm on the brake hoods or the drops I can safely see behind me well enough for "quick checks". Compatible with the
Bell Muni.
The Muni is very similar in style but does not offer the full line of accessories as the Metro. A quality helmet for nice fit and comfort comes in different sizes rather than one size fits all found in department stores and such.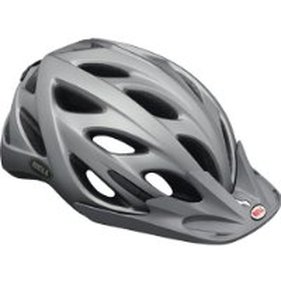 CLICK IMAGE FOR INFORMATION OR PURCHASE
Bell Muni
pictured at left is a quality commuter helmet with added rear lighting (see photo below) and comes in variety of colors for additional visibility and safety. The Muni is also made with a nice sizing chart rather than one size fits all.
Although the Muni comes with built in rear light some folks don't feel they're bright enough and so order the Blackburn Flea 2.0 front and rear helmet lights, which can be charged via a USB cable. Very convenient for the office.
For a review of someone who's purchased their own set up of this combo visit the
Fat Cycle Rider
for more information.
As for me I'm keeping my ol' Bell Metro, Cheers to Safe Riding and quality head protection. For other bicycle light needs for your winter bike commute, here's a link for more information at another post.
Bicycle Lights for Bike Touring and Commuting
.
Your friend, Rideon