Bicycle Lighting Product Reviews, Cygolite and Planet Bike are Faved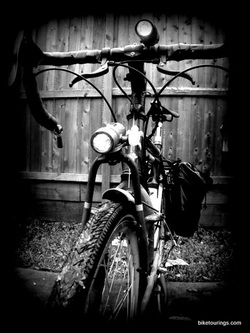 Bike Lights for Touring and Commuting
Looking for and finding a quality set of lights for bicycle touring and commuting I have a couple ideas on this topic as daylight saving time begins this weekend.

Preparing for commuting needs may simply mean having some nice bright little flashers to communicate your presence to motorists. However, if you're one of those lucky commuters who enjoys the less traveled side roads or when enjoying more rural bike commutes you may want a front light that provides enough Lumens to light your way. Pot holes, road debris, wet painted surfaces or wet metal surfaces, it can be quite a list of potential inanimate road hazards of night time commuting.

My commutes are a mix of well lit moderate to high motorist traffic with plenty of very dark side roads without street lights both rural and historic residential areas. Roads which are older and have plenty of potholes and loose road debris. In fact I recently repaired a neighbors bike who had hit a large chunk of asphalt left behind by a road working crew on his regular bike riding route. He didn't see the debris and upon hitting the piece went over the handle bars thus damaging his bike and his ego.

For ten years I have been using a discontinued Cat Eye Opticube front light which doesn't offer a flashing mode. I put that old light on my mountain bike for trail riding as it has a 31.8mm clamp diameter and can be angled left or right for accurately lighting the center of the path. And if I find myself pulling a trail stunt like neighbor hitting the asphalt, damage to my old light wouldn't be an issue.

Commuting on high traffic urban streets I have always found a quality blinking helmet light to be the best means for getting drivers attention on dark rainy nights. It works because if for whatever reason a car brings itself to a commuter's attention so that the commuter turns their head to look at the vehicle the helmet light of course points in that direction so that the motorist notices the commuter. From years of experience the method works. I have had my

Planet Bike Sport Spot 4 LED Bicycle Light with Head and Handlebar mounts

for several years. It has held up to moisture and cold very well. I use NIMH rechargeable batteries and the run time can exceed the 100 hour rating with quality batteries. Currently the best light I own and photo chart at right provides nice example of how well the light works at full power. As the light comes with both handlebar and helmet mount the light can also be used as a hands free head lamp for bike camping.

This year I have been looking for a USB rechargeable Li-ion front light that will provide approximately 300 Lumens, has at least two modes of flashing and steady and generous run time for my "all rounder" touring and commuter bike. Winter bike camping is very nice along the Texas Gulf Coast and having a USB rechargeable light is now a convenient means of not having to rotate rechargeable batteries and possibly recharge the unit with by

C Crane Travel Radio (click for blog article)

. I found that

Rivendell Bike Works

likes the Cygolite and most of the guys there have the Cygolite 280 Streak on all their bikes and will most likely be the next front light I get for my "all rounder".

Cygolite bike lights, click photo for Info.

Available in many different Lumen options and power sources Cygolite can also be found on our

Bike Travel Products Page

or use product link provided at right.