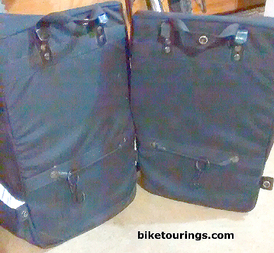 When considering bike panniers for commuting there are certain qualities that can be overlooked as opposed to considering panniers for bicycle touring. For example having smaller more compact panniers for navigating through urban, city or high traffic areas where a large set of waterproof panniers are usually too bulky and rigid.
Panniers supplied with horizontal compression straps on the outside of the bag can be used to tighten the bags around the load in each pannier. This provides ability to make the bags smaller and provides more secure handling as the weight of the load in the panniers is much less likely to shift around in the pannier. A particularly important consideration for use on a front rack.
I have been using my
Delta Compact Panniers
for their ease of use for taking off and putting on the bike and have come to appreciate the simple design. Although I have found these to be my go to panniers for quick grocery and business errands I didn't like the way they handled on a front rack when fully loaded on my touring bike. This was due to the lack of features previously described. So while browsing several different makes and models of panniers looking for these quality options I stumbled upon some excellent panniers from Trek on sale at one our local shops.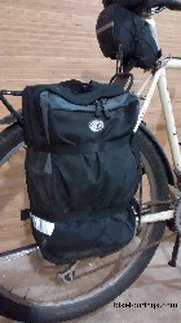 I wasn't at all familiar with any Trek Bike Company panniers and didn't recognize the logo on the bags having guessed they were a product of Transit, makers of bike racks and other bicycle accessories. Once I began looking over the quality of the steel rack mounting hooks, metal snaps located on lower fore and aft positions of the panniers as well as on the top handles and overall quality of construction further inquiry revealed they were the
Trek Pannier II Pack.
A model of excellently designed and constructed bike commuting panniers including built in rain covers! Very modestly priced as these panniers cost the same as my Delta Panniers which have less capacity, no rain covers or ability to snap the panniers together. For the price these panniers are a no brainer and I love how they feel snug and secure after tightening the cinch straps on the outside of the bags, very nice. They only thing missing is a shoulder strap but with the snaps and carrying handles I don't mind a bit. Here's the basic product information:
Product Description: Extra large rack mounted bicycle pannier. A basic attachment system with Tightrope safety cord easily secures the pack to the rack. Fits most front, rear, and low rider type racks. 2,520 cu. in. capacity per set. With a built in rain cover. Comes as a single pannier.
Click Here
for more information or to Purchase.