Some of the first uses of dirt drop bars appeared on the Bridgestone MB-1 and thirty years later are becoming popular again with several manufacturers providing their own models. Twenty niner's, fat bikes and other enthusiasts are finding that adding some dirt drops to their ride is a lot of fun. "Everyone should own at least one road bike and one mountain bike" to quote a self proclaimed novice bike expert.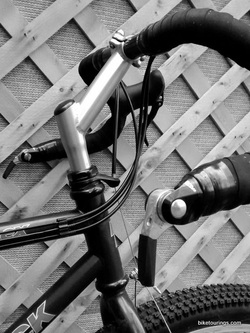 Personally I haven't found a desire to build up a bike with dirt drop bars until I landed an old Diamond Back Ascent EX frame with an exceptionally long top tube and long chainstays. A frame geometry very suited for bike touring which might be why Diamond Back added the third water bottle carrier under the down tube, something more common to a touring bike than a true all mountain trail bike. Ironically this provided an opportunity to have a mountain and road bike in one build, a nice "two fer" in reference to earlier quote.
All those factors contributed to my wanting to build an on and off road touring bike where dirt drops would make the most sense for a mountain bike with drop bars. Pursuant to this goal I found a lot of information on a variety of dirt drop bars. My main objective was to find a handlebar to provide comfort and multiple hand positions during the long haul, something preferable when building a touring bike.
After locating some
3 x 9 Sunrace bar end shifters
and reasonably priced
Tektro brake levers
I decided on the
Origin8-Pro Pulsion Alloy Gary-2 Handlebar, 530 x 25.4mm, Black
as I had some stems stashed in the shop that would make a good fit for a comfortable yet performance oriented riding position. Photo below of the completed build shows handlebars slightly higher or parallel with bike seat while aligning top of stem and bar with front axle while riding on the brake hoods. I have had the opportunity to run some errands and take it out for some longer jaunts and it felt very comfortable after getting the seat height dialed in. It helped to wrap some Cinelli gel pads under the handlebar tape at the drops for some added cushe. I like the Sunrace bar end shifters and although they are sold individually rather than in pairs the price for a set of 3 x 9 shifters is excellent. When combined with the Ergonomically designed Tektro RL340 brake levers I am enjoying the handling of this particular bike as all this work proved to resolve many of the frame's design issues which were causing a good deal of discomfort.
Here are some useful links for parts used in building a bike with dirt drop bars:
Tektro RL340 Ergo Brake Levers Black/Black
Origin8-Pro Pulsion Alloy Gary-2 Handlebar, 530 x 25.4mm, Black
Shifter Sunrace Hb Barend Slr96 Rh 9S Bk/Sl
Cinelli Cork Tape, Bike Handlebar Tape
Cinelli Gel AVS Pads