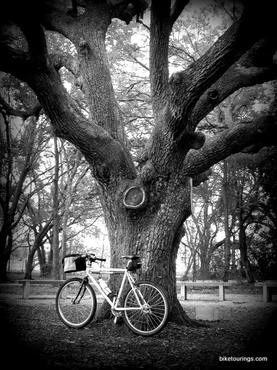 An old business axiom is "location, location, location" and much the same is with photography. Not just the geographical location but the location of placing subject matter within the frame of the image.
In this era of point and shoot cell phone technology and social sharing sites such as Instagram and Flickr it seems that everyone is a photographer these days. However there is still a place for a more advanced understanding of simple photo techniques particularly with cameras offering more creative control allowing a photographer to influence the image in effort to emphasize portions of their pictures.
Fortunately for me I have had friends with a creative knack for getting excellent photos and who were generous enough to share their tips and ideas with me. I enjoy bikes so much that one of the ways in which I display my appreciation for them is to photograph them and when I create a nice photo I feel that I have justly shared my enthusiasm with others.
Paul Jeurissen has share his many years of creating beautiful images from exotic locations around the world has provided a
free ebook
for bike folks interested in creating better photos with many tips and techniques with links to other how to photography resources. Paul's free ebook
"Bicycle Touring, a Quick Guide to Taking Better Pictures"
includes information regarding selling your photography as well as basic understanding of photo copyright and more. Click on either of the underlined links or click on photo below to check out an excellent resource for any bicycle photographer whether beginning or advanced any bike folks interested in photography would enjoy Paul's photos as well as the information.
Happy Holidays,
From our Bike Family to Yours.