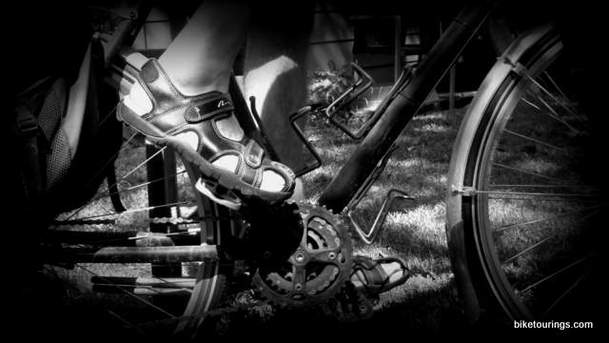 Nashbar Ragster II Sandals are excellent clipless bike commuting sandals particularly for the typically low price.
After a little over a year now (
Click for Previous Post)
I am really enjoying the
Nashbar Ragster II Sandals
particularly for hot or humid weather. I purchased these sandals last June when I provided my first article regarding how to prepare the cleat mounting area for adding cleats to the Ragster II. For bike commuting one of the reasons I like these so much is the way the soles cover the surrounding area of the cleats. No more clickity clackity nonsense or the sound of grinding and crunching over concrete or pavement and not having to wear socks is nice though it does allow for quite an interesting tan line.
The closed toe necessitates that I keep my big toe nail clipped short but that has more to do with one foot being oh so slightly longer than the other. Also, the neoprene like fabric for the closed toe is very easy to stretch by hand. These bike sandals from Nashbar are so much more comfortable to walk around in and though I'm not one to harp about bike fashion I do appreciate the subtle quality of this footwear. While walking around in a coffee shop or grocery store I don't have non bike folks looking at my odd noisy footwear that had me considering busting out some tap dancing moves. I now leisurely stroll about walking comfortably and confidently though I wouldn't try playing soccer in them. A common complaint in other reviews is the "pebbled" foot bed as shown in the lower left photo. I haven't found it to be an issue of discomfort at all and in fact appreciate the grip provided as my feet don't slide around when riding bare foot. Also of note are velcro heel straps which can be adjusted a bit and helped my bigger foot from feeling too pinched with the closed toe design.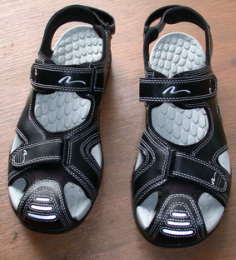 Here's a look at the
Nashbar Ragster II Cycling Sandals,
same as those I'm wearing in photo above and want to thank
Lisa Piper of Natural Living
for her fun and creative photo skills. I appreciate extra safety features particularly while bike commuting and the reflective accents shown in photo at left are also on the heel strap.
These sandals are not only comfortable and affordable but made to last. I feel confident I will get miles and miles of bike touring and commuting use from this footwear.