The Best Bike Commuting Bag for less than Ten Dollars!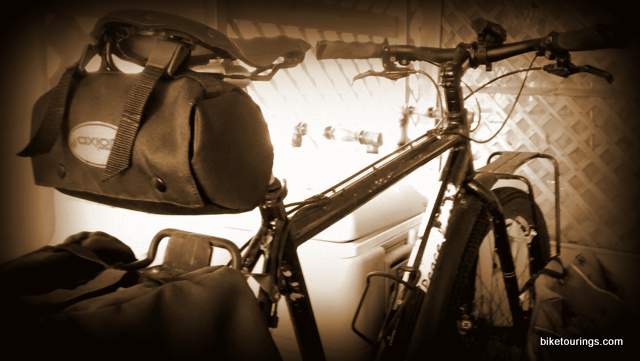 Versatile handlebar bag can be used as a seat bag, excellent for bike commuting. Axiom Phoenix bag fits most leather saddle tabs like that shown in photo from Selle Anatomica or Brooks Saddles.
Looking for a bike commuter gift idea? I purchased this as a birthday gift for Lisa as she needed something a bit larger for her new Sony Z1 phone and Adock Silicone Keyboard as well as other items such as riding gloves, keys, etc.

I didn't want to spend too much as I tend to do for her birthday so the

Axiom Phoenix Handlebar Bag

looked to be a perfect gift idea at ten bucks or less. Without skimping on quality it turned out being a good fit for her '89 Peugeot. A simple strap design allows use as a seat bag on a Brooks Saddle or most any leather saddle with seat tabs such as those on the Sell Anatomica NSX pictured above.

The bag is very water resistant and the Kiwi Camp Dry once added will be adequate for the material However, the two button snap design being a nice change from the plethora of zippered models on the market creates a flap between the snap on cover and the rest of the bag.

I was able to find a

bike seat rain cover

that should fit nicely and for a few dollars more it was worth seeing if it will fit. Whether it does or not is of no issue as she is very pleased with the bag so far. Due to the simple strap design this versatile little bag from Axiom doesn't interfere with a front light that is mounted on the handlebar. Some folks have a very difficult time commuting at night and many quick release handle bags and baskets which use a large mounting bracket typically places the bag or basket a bit high so that the front light is blocked from effectively lighting the roadway. Not an issue with this simple little bag.

Product Specifications:

Axiom Phoenix Handlebar Bag

is made of 600 D Polyester measures 4" x 9" with a capacity of 44 cubic inches and weighs 150 grams. Mesh interior pockets are nice for stashing keys and other small items while commuting. This is a very good little bag for the money and exceeded my expectations of quality with the leather Axiom logo as a nice touch providing a classy retro vintage look.