Affordable Quality Bike Touring Panniers with Water Proofing
I recently reviewed my ten year old

Cartier Panniers

and have been pleasantly surprised by my

new handlebar bag from Axiom

.

While shopping for a small, simple handlebar bag that I could use on any of my bikes without having to use a mounting bracket I reminisced about all the Axiom products I sold to some very happy and satisfied customers.

Whether for short bike commutes or cross country rides I was able to provide affordable quality items to meet my customer's needs. It always felt good to have customers return to the shop not to complain or want an exchange or refund but to give me their thanks for not only supplying a quality product but saving them some money as well.

While looking at the new mounting brackets, new models of panniers and other re designs I felt it was time to catch up a little bit and have decided to order some new panniers.

While I love my old

Cartier Panniers (link for review)

I would like to replace some other Axiom Panniers I sold with a restored vintage Bianchi touring bike I had completed in our shop.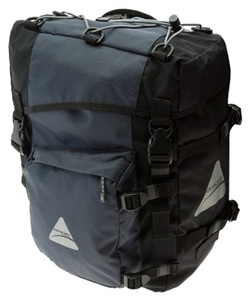 My favorite panniers whether it be for bike touring or commuting are the
Axiom La Salle Panniers.
Designed for front or rear use, offer plenty of storage, include rain covers, angular shape for wind resistance and of course extremely durable. Unfortunately or fortunately when I sold the '83 Bianchi Randonneur Touring bike the buyer wanted the bags so bad he paid extra for them.
All of the Axiom Panniers have changed slightly in appearance over the years with a few design differences among the various models and a few new models added such as the Seymour DlX Panniers.
In my previous post regarding my Axiom Cartier Panniers I decided to order a pair of the Seymour DLX 30 Panniers
A good bike touring pannier set that offers versatility with swapping front and rear bags. I like to use the Axiom Cartier Panniers on the front with Minoura Front Pannier Rack. Locking tabs on Panniers ensure they won't bounce off. Velcro handle strap that goes over rear rack ensure the Delta Panniers stay in place as well.

Other than the Grand Tour Modular Kits that I hear were a flop, most all Axiom Panniers are a worthy investment sure to provide several years of use with proper care and handling. Here is a short list provided from a comment regarding the most popular panniers from Axiom with storage capacity and links.

Seymour LX

1700c" (27.85L) per pair

Seymour DLX 30

1830c" (30L) per pair

Lasalle DLX 45

1830c" (30L) per pair

Cartier DLX 35

[this set] 2013c" (33L) per pair

Kootenay DLX 2441c" (40L) per pair

Champlain DLX

60 3000c" (49L) per pair

Here is a list of Bags and Panniers in photo. All bags treated with Kiwi Camp Dry, have optional rain covers also treated with Camp Dry and use of Water proof stuff sacks for organizing and storage.

Axiom Cartier PanniersDelta Compact PanniersAxiom Phoenix Handlebar BagAvenir Big Mouth Seat Bag
Kiwi Camp Dry

At the time of this post the total cost this pannier kit is less than $170 including rain cover for Axiom Phoenix Handlebar Bag and Kiwi Camp Dry Waterproofing Treatment.