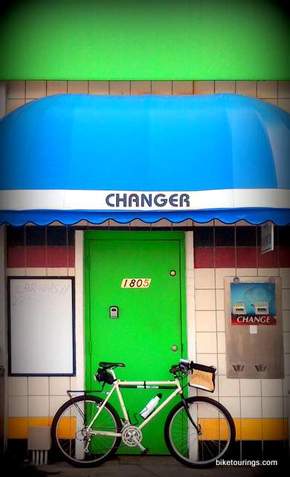 I was reading a post from Darren Alfe at Bicycle Touring Pro about his 26" Continental Town and Country tires failing on him then his successfully finding a "generic" tire as a good enough quality replacement for his bike tour. While searching for new tires for my old Bridgestone MB 1 I considered many of the 26" tires I have sold over the years.
An old favorite of mine was the IRC Duro Metro which is no longer in production. Of course all the Schwalbe tires in the Marathon series are without a doubt excellent quality but I really wanted something considerably less expensive.
I heard about a budget tire from CST and felt that for the very modest price I would get a pair for one of our girls' cruiser bikes and if I liked it I'd order another set. After being rather impressed by what seemed to be a very decent tire casing with a nice 65 psi pressure rating and providing a very cushy ride I decided to research them a bit more.
My supplier lists this tire as the CST City Commute tire in 26 x 2.125 with two types of tread patterns. The first set I purchased are the
Cheng Shin C241 Street Bicycle Tire with wire bead
.
I know an obviously made in China product which had apparently put the Continental Town and Country's on everyone's black list. Regardless of that fact, these tires from
CST or Cheng Shin
, whatever they want to call themselves are a very decent quality tire for less than twenty bucks. I have seen this tire selling for anywhere from ten to nineteen dollars!
Turns out several folks that commute on varying terrain of multi use paved and gravel bike commuting paths absolutely love these tires so I purchased three pair and am considering getting a fourth in case they quit making them or they sell out. After putting a pair on my wife's bike she likes them so much that she is actually riding more as a consequence of truly feeling that the tires ride quality makes her bike commuting that much more enjoyable. She now wants to ride much more for recreation and not just running errands or commuting.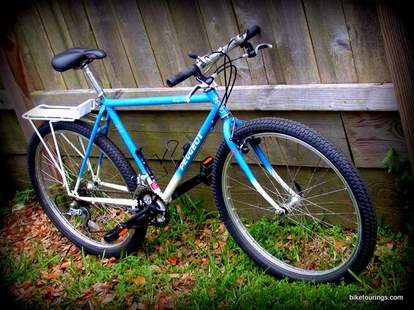 CST City Commuter Tire
on Lisa's Peugeot Canyon Express has a different tread pattern than the
C241 Street Tire
.
When I first test rode her bike with these new tires they felt a bit sticky on dry pavement. After approximately ten miles the tires felt better proving to be a stable, fast rolling tire that handles light trail riding or gravel roads with ease and feel good on wet pavement.
Read the reviews
of folks who use these as all season tires even on snow and you'll understand why I now have three sets of these affordable quality bike commuting tires.