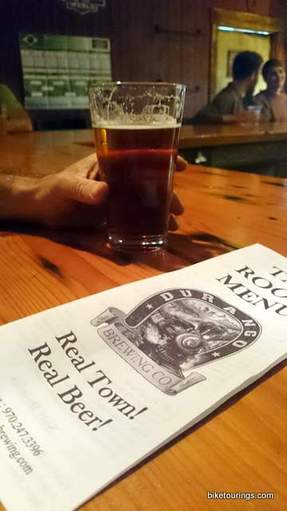 When discussing bikes and beer Durango, Colorado needs no introduction but if you are not familiar with how to get around Durango on a bike to visit these pubs and not sure what each has to offer this blog highlights our favorites.
We wanted to visit the locally brewed fine quality beers that Durango is known for. So here is the lineup of the best known local brew pubs with links to each pub's site, respectively.
Carver's Brewing Company
Durango Brewing Company
Ska Brewing
Steamworks
Each of the micro brewery pubs listed not only offers a unique beer sampling experience but provide a nice bike tour of Duango's very bicycle friendly commuter streets. Approximately twelve years ago I was fortunate enough to have lived in Durango for three years. Back then bikes were popular but the designated bike lanes and the number of folks riding and commuting has drastically increased.
Given the influences like that of Fort Lewis College and the long established mountain bike community it's not surprising that the city would make an effort to not only embrace bicycles as a viable mode of transportation but that the ease of getting around Durango's town full of mountain charm and beautiful scenery could boost tourism as well.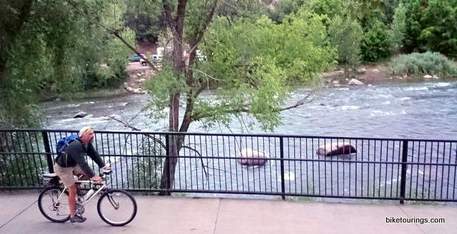 An old favorite for bike commuters is the
Animas River Trail
which covers about seven miles meandering in a round about way providing easy access to visit different areas of town. Use the link provided for a PDF map of the trail system.
We visited Durango over the July Fourth weekend and were able to avoid much of the town traffic by staying at the
United Campground of Durango
. Camping with our two teenage girls it is necessary that we find campgrounds that provide certain amenities such as showers and such particularly for a week long camping vacation such as the one we took this year. Map provided below shows the easy riding from the campground to town for shopping, sightseeing, photography, entertainment and of course riding your bike.
If you're looking for a fun, interesting bike friendly mountain community Durango has something for everyone in the family to enjoy, especially us bike folks.
Here are some favorite accessories for pub crawling tours