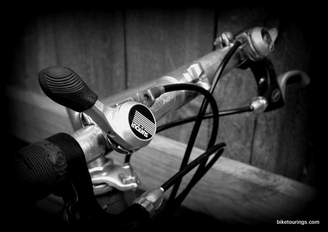 Mountain bikes have been a popular choice for lots of bike folks looking to use their recreational bike for commuting or bike camping. Several reasons contribute to this popular decision a few of which are lugged steel, 4130 cromoly tubing, typically easy to install racks and fenders and very affordable.
Quality is usually without compromise when finding a quality used steel frame set as with the Peugeot Canyon Express, a steel lugged Tange tubed beauty. Due to the simple fact that I had a spare 26" wheelset in my shop as well as handlebars, stem and other niceties I decided to build up yet another mountain bike as a touring bike or for commuting and bike camping.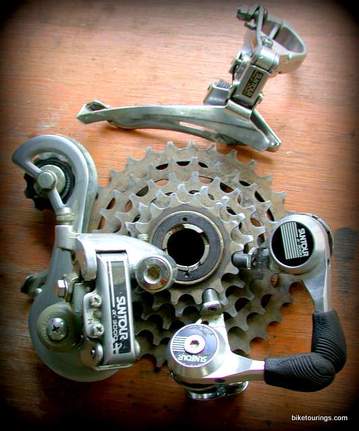 Some patience and searching for a good component group resulted in the Suntour Alpha 3000 set found on ebay for $50 as I greatly appreciate the simple design of old thumb shifters and can be a hard to find quality item. This particular component group from Suntour offers a nice gear ratio in a five speed freewheel combined with a new Suntour crankset, perfect for pulling some hills with loaded panniers with versatility for recreational trail rides. All in all building up these old frames for fun, convenience and comfort is a very rewarding experience. Selecting a stem and handlebar combination allows for freedom of creating a comfortable posture and or multiple hand positions depending on intended use.
Handlebars and stems are quite inexpensive particularly for older one inch threaded forks where quill stems in 22.2 mm diameter are very affordable.
Coming in at just under $200 made this build a no brainer with both investment and labor, not to mention the sheer pleasure of building up another high quality commuter bike with a steel lugged frame, beautiful!
Here's a link to a nice article at
Bike Touring 101 converting mountain bike as a touring bike
.