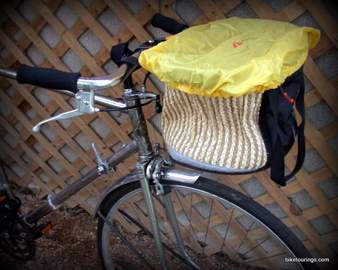 A refurbishing project of a '60's Puch Bergmeister went surprisingly smooth and easy after the initial hard work and efforts to restore the bent fork and convert to a 14 speed cruiser.
A comment from a reader suggested I not add a handlebar basket as it would block the beauty of the ornate lugs and head tube badge.
My search for a versatile handlebar basket began with considering a handlebar bag for photography equipment and other goodys that I enjoy taking with me on my bike rides. A combination of a waterproof handlebar bag and basket seemed like a tall order and something I hadn't considered as being an available product on the market thinking I would have to make one myself, that was before I found the versatility and convenience offered in the Detours Town and Country Basket. Installation is simple and mounting brackets are offered in 25.4 and 31.8 mm, quick release bracket, storm collar, rain cover and is made of sustainable bamboo and grass. Weight capacity of ten pounds, nothing about it is heavy. Handle straps provide ease of using as a tote option and the inner liner with drawstring keeps things protected whatever items one wants to keep safe and sound. This is a very easy way to provide cargo options for touring and commuter bikes. We share this one and will order another for my wife's bike, we like it that much.
For more information about other Detours products
visit their site
.
Or use the link provided below for information or purchase.