Vintage Steel Lugged Frames for Touring and Commuting Bike Projects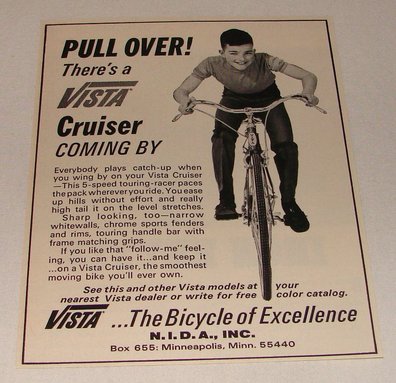 Back when gas was far less expensive I owned a '69 Oldsmobile Vista Cruiser Station wagon.
What a cool old ride with the exterior primer grey, moon roof and electric rear window for my dogs to conveniently jump in and out of. I got to reminiscing about that old car when I found another cool old ride in the form of a '70's Vista Summit steel lugged 4130 cromoly frame. Found an old promotional ad and the quote of "Pull Over There's a Vista Cruiser Coming By" has me a bit nostalgic of that old car and my dogs, good times, lots of travels and as I lay here kicking it with my current dog, Rooch it's amazing how much my life has changed since those days.

Speaking of making changes for the better in one's life, this old bike I found while cruising around with and old childhood chum is in keeping with my sentimental feelings.
We found this retro cruiser style road bike with beach cruiser handlebars, levers and shifters zip tied to the sides of the bike, wobbly hubs, headset and bottom bracket. Poor old thing was definitely not worthy of riding but I could see the beautiful potential waiting to manifest with a bit of TLC and spare parts I had in my shop.

Bike originally had 27 x 1 1/4 wheels and tires. Even though I was able to salvage the wheels by overhauling the hubs and truing them up, I nevertheless decided to replace them with 700c wheels and put on some fat 700 x 40c commuting tires adding versatility and performance on varying terrain.

After pressing in some new headset cups and slapping a stack height together out of whatever parts were lying around so as to simply be able to properly adjust the newly packed bearings I wanted to convert this vintage classic bike to a 24 speed. In the process of playing around I was surprised to find that an old Shimano friction derailleur and Sun Tour stem shifters worked out to complete the conversion. So, without further ado with new cassette and rear wheel it was tough getting those fat tires to fit without rubbing on the chainstays

Cafe commuter style handle bars

Found a used stem in parts box and cut the beach cruiser handle bars for a sporty cafe stylishness. This also provides better handling with some weight on the front tire for traction. Non aero dia compe brake levers were converted for to fit handlebars.

This neat old frame's adjustable horizontal dropouts and integrated steel derailleur hanger needed to be aligned as well, Once that was performed it was just a matter of installing the wheel and tire prior to inflating after removing the adjusting screws in the dropouts. Of course, I kept the adjusting screws as they are original to the bike and proceeded to consider stem and handlebars. Original stem was bent and rusted beyond repair and was pleasantly surprised to find the frame was in very good condition inside and treated with JP Weigel's frame saver.

After test riding this old gem of a ride I have considered keeping it around for awhile. It's a fun, fast dependable bike for urban or rural bike commuting. Might add a rear rack for goodys and panniers but for now the simplicity is so fun and light weight it's fun to just get on and ride.
Here's to keeping and creating good memories this Holiday Season from our bike family to yours, Cheers!, Rideon