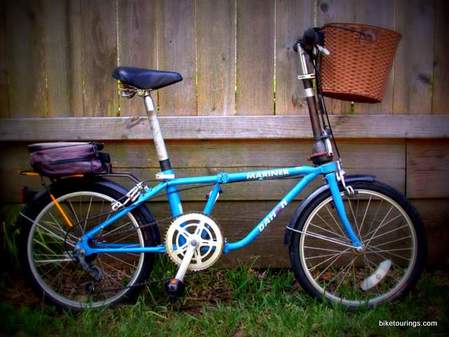 Dahon Mariner for bike travel
Bikes that can be folded for travel and stowed in a carry bag, car trunk or luggage compartment are very convenient to have. This is the first year I won't be traveling for the holidays and am very relieved that I can stay home, relax and enjoy this time of year.

That being said, because we have traveled for family gatherings the past three years I think of our good ol' Dahon Mariner. Even with all the excessive packing of stuff including cold weather clothing, gifts for family members and the kid's "must have with them" bag upon bag of entertainment items and food I have always been able to fold the Dahon and tuck it in without anyone complaining about lack of space for......"stuff". With its' "one size fits all" design it's a fun bike for the entire family which I suspect helped to quell any complaints about it taking up valuable cargo space.

When not traveling I enjoy the convenient handling and size of the 20" wheels for bike commuting on sidewalks when necessary and when there's an opportunity to stretch its' legs the gear ratios of the '98 Dahon Mariner five speed can get up and go. I found this bike at a used marine supply shop when I stopped in for a bathroom break. Bike had obviously been neglected on their porch, rusted solid chain, flat tires and paint had oxidized in the Gulf Coast air. I haggled out a reasonable price and after getting it to my shop gave it plenty of TLC With older model Dahons like this one of the complaints is being unable to obtain proprietary replacement parts. However, most of the common components that require routine service and with normal wear require replacing are not proprietary such as wheels, brakes and the like.

A proprietary part regarding the steer tube mechanism for folding the bike showed considerable wear that could be felt when applying the front brake and gently pressing and pulling the handlebars back and forth. An easy fix was to make a shim with a thick piece of scrap leather which was pressed and clamped into place. This of course was done after adjusting the threaded length of the foldable steering clamp. An important repair for adding a

Sunlite Handlebar Basket

with ample room for small grocery store errands.

Newer Dahon models are now available with disc brake, quick release wheels and alloy frame material.

There are a wide variety of models to choose from including single speeds on up to very sophisticated gearing for improved range of performance. At some point I would like to change the wheel set to something with internally geared rear hub. Until then it rides well for quick shopping errands and pleasurable outings. Considering this is a fifteen year old bike that is performing nicely after severe neglect it is a tribute to Dahon quality and serviceable products. Link is provided below to shop for current Dahon models.
Information for Purchasing a Dahon Bike