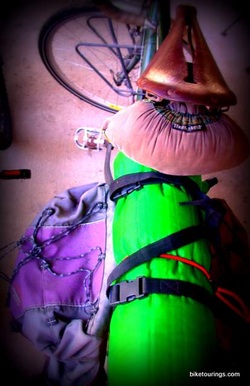 Thermarest Trekking Pillow and Sleeping Pad
Bike travel can be challenging both physically and mentally so getting a good night's rest while touring is important. I was recently asked about what type of pillow I use while tent camping on a bike tour so thought I'd give it a "blog about".
Pillow is such a nice word associated with sleep and of itself implies rest and relaxation but a big and huge fluffy pillow though may sound appealing is of no use on a bike tour. So having a pillow that packs well, is lightweight and comfortable so as not to sacrifice good sleep when packing concerns are a priority. Thermarest has been around for quite awhile credited with the original inflating travel mattress. Thermarest has produced some unique products for folks like us looking for convenient travel solutions. My mattress and pillow combination is a tried and true duo from
Thermarest with the three quarter length
self inflating air mattress and a C
ompressible Trekking Pillow
I have a bed roll that I know is cozy and comfortable without compromising my sleep.
I have tried the stuff sack full of clothing and other methods like using clothing bunched up under my head and found myself waking to a stiff neck and sore shoulder(s). Some of it has to do with the fact that I'm in my mid forties and some of the hard knocks of my youth seem to remind me to be more gentle with myself. Even with that, so long as I am getting my sleep I can continue to pedal the miles out during the day. Another very interesting item from Thermarest is their
Haven 20 Sleep System
which is an innovative design in a zipperless sleeping bag that doesn't move if you toss and turn during sleep. At 1 pound six ounces this light weight goose down bag is perfect for bicycle touring most of the year. Though I don't own this new sleeping bag it is something I am very interested in for my own bike travels. Select from links provided below or links highlighted in article. Happy Bike Camping!
Quality and Comfort from Thermarest Products for Bicycle Touring