Nashbar Double Butted Aluminum Mountain Bike Frame Build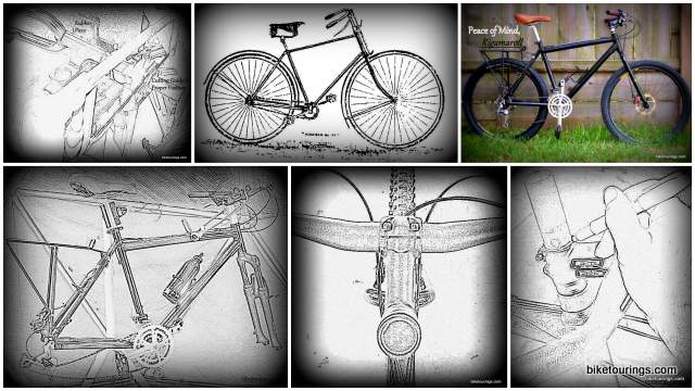 Conceptually modeled after one of the first "Safety Bicycles", we are very satifsfied with how the Rigamaroll turned out. Click image to enlarge.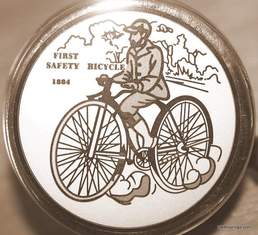 In this modern era of techno gadgetry, tweets, likes, apps and such it's always a bit refreshing to bring in a bit of history to help keep things grounded.
Our idea was to build a simple, efficient bike capable of riding on any terrain including snow. A versatile bike that wouldn't have to be perfect for any particular riding condition but can perform solidly under most all conditions as a mountain bike touring, commuting expedition bike and has been aptly dubbed the "Rigamaroll". Photo at right is of the bell for the Rigamaroll and depicts one of the first Safety bikes of the late 1800's. Unlike the Penny Farthing which was very hazardous with its roller coaster style, the "Rover" Safety Bike provided a vast improvement in its simplistic grounded approach to riding so that the rider's feet could touch the ground. Probably has something to do with one of the first Safety Bikes being dubbed the "Cogent" by Henry Lawson as cogent is defined as (of an argument or case) clear, logical, and convincing. Just look at the two bikes pictured below, which would you rather ride and that is what the word "cogent" referred to .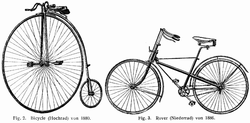 Penny Farthing and Rover Safety Bike
What was considered a novel idea at the time proved to be so effective so as to change cycling forever. With the "get down off your high horse" approach being not only safer, it also made the bike more accessible to a larger number of folks and really helped to kick off road development for cyclists. Something a lot of folks, even bike folks are not aware of is the fact that the American roadways were first implemented for folks to travel around on their bikes, not cars.

As mentioned, isn't it nice to have a reminder or refresher on bike history, particularly as I felt the need to build a bike for an area where many of the roadways are inaccessible due to the large number of fast moving cars without a bike lane. I'm not such a politically correct bike reformer that I will "take the lane" in an area where motorists are simply not used to seeing someone on a bike on their roadways. An "anyhow" approach went into our most recent build of the "Rigamaroll" ensuring safe handling, cargo carrying and just enough "attitude" for fun.
Oh ya, link to free ebook below.
Cheers!