A Timeless Classic from Richard Ballantine, Richard's New Bicycle Book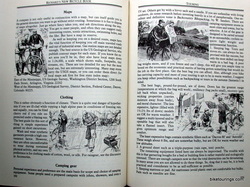 One of the most well written cycling books of all time. A treasure for any cyclist's book shelf particularly folks interested in bike travel, bicycle touring and commuting.
Richard's New Bicycle Book.
Photo is a sample of page illustrations complementing often humorous and informative text. One of those rare books that can be used as both reference material and leisurely fun reading.
Written from a witty non competitive nor edgy perspective. Ballantine's book advocates bicycle riding and commuting with a common sense approach enlightening readers to approach an active cycling lifestyle with fun and safety in mind. Here are some of my favorite quotes as he relates to bike touring.
"
The reliability of a bike does a lot for peace of mind
".
"
Touring is the real joy in biking
."
"
Touring can be done in a tremendous variety of ways
".
"
There's a lot to touring, and plenty for you to think about. At the same time it can be kept simple".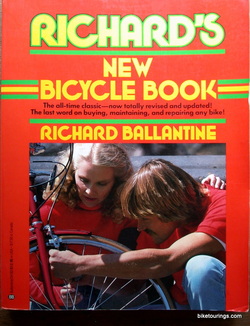 Click image for information or to purchase.
There are several other books Mr. Ballantine has written as well as having collaborated on some other cycling books. At Amazon for example you will read reviews of seasoned cyclist's who have been enjoyed reading the words of this particular book for more than twenty five years.

A book that "never should have been allowed to go out of print" according to one review. This book is still available used and when you find an inexpensive copy, get one!

One of those rare life affirming reads that can add new perspectives and interesting ideas you your riding experience whether you're touring, commuting, racing even mountain biking there is something in the pages of this classic material for all cyclists.

If you're new to cycling or think you "know it all" read this book for safe riding techniques in traffic or a concise analysis of gear ration percentages.