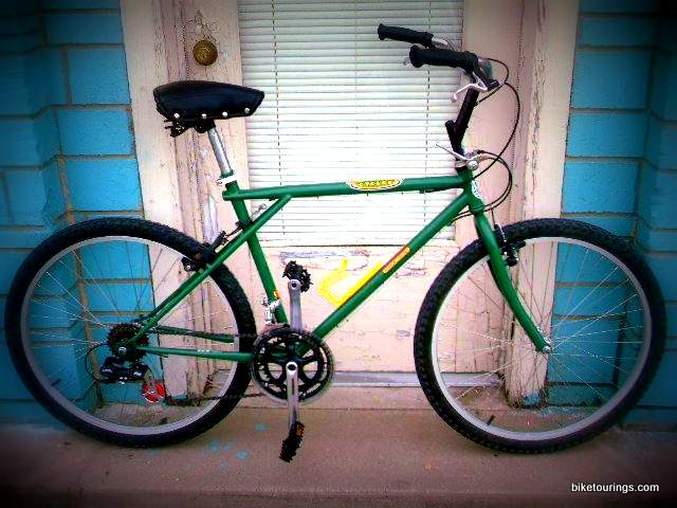 I had fun building this old GT mountain bike frame as a comfy cruiser style commuter bike for a customer. Custom spray paint job with clear coat. Very Cool
As it seems GT decided not to continue production of this model of the Peace Tour, just thought I'd share this photo for fun. An old GT mountain bike frame painted and converted to a comfy old cruiser style commuter bike. Peace, Sweeet!
An opportunity to purchase a bike for touring or commuting with disc brake and a frame made of Reynolds 520 tubing, fenders, Schwalbe Delta Cruiser tires for less than $700 and support a good cause. Limited Edition GT Peace Tour and
Wheels4Life
have teamed up for this Limited Edition touring bike.
This could quite possibly be one of the most understated bikes on the market today. Very affordable with quality components including 27 speed drivetrain, bar end shifters and threadless stem. Most bikes in this price range don't include those items with gear ratios suitable for loaded climbs.
An all rounder with versatile potential, remove fenders and add some beefy knobs for trail riding or with rack and fender braze ons cute it for stylish commuting wants and needs.
This bike is well reviewed and with a kindly price tag can be upgraded where appropriate. For more information regarding components and other specifications click on the photo provided below or the link provided above.
You won't go wrong on this.
Cheers!