Fat Wrap Offers Comfort for bicycle touring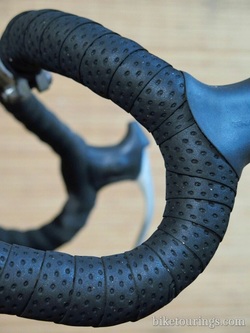 When Kent of
TASIS Bikes
contacted us about reviewing his new handlebar tape made specifically for bike touring enthusiasts he mentioned "if you double wrap your handlebars, this product is for you". Of course Kent got his new
Fat Wrap
product to us a couple months after I had just finished double wrapping the bars on my touring bike.
Due to the long hours spent on a bike while touring having your bicycle set up properly is imperative in eliminating some of the most commonly associated miseries of a long bicycle tour. Even with proper
bike fit
, handlebar to saddle length and height adjustments customized for the rider's body characteristics certain types of pain tend to creep up on many folks while touring. S
econd only to saddle soreness is hand numbness and/or wrist pain from maintaining and holding a particular riding position hour after hour day in and day out, week after week.
Over the years I have used many products all of which I might add have provided solutions to hand numbness and pain. Several
gel pad products
are available designed to be installed under handlebar tape and I found them to be most notably helpful while riding over rough dirt and gravel roads for vibration dampening. Some of the fancier kits are designed to fit over the contour of the handlebars and are reusable when you need to re-wrap your bars.
That having been said the gel pads are only so durable and if they get punctured the gel oozes under the handlebar tape consequently requiring the tape to be removed and very likely replaced. Also, some of the gel kits are a bit cost prohibitive and don't include bar tape. Padded
cycling gloves
help to some extent but often are just not quite enough to accommodate the needs of some long haul touring enthusiasts. There have been innumerable companies creating all sorts of gimmick products (particularly saddles) in an effort to provide more comfort or "implied comfort" by the less scrupulous. So it is refreshing to receive a product to review that provides a simple, practical solution to one of bike tourings' most common complaints.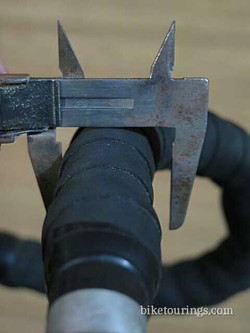 Introducing
Fat Wrap
, a simpler more cost effective method of getting the handlebar comfort and durability for bicycle touring and especially bikepacking where I have a tendency to be rougher on equipment than while road touring. Grabbing, gripping, lifting the front wheel and throwing it about can cause the gel pads to wiggle about if not properly secured under the tape during installation. Sweat, rain, any moisture that may seep in can contribute to some of the loosening effect over time.
A simple solution would be to have a very thick, durable handlebar tape available which can be installed securely without added layers of other products. That having been said how much thicker is
Fat Wrap
than one of my favorites from my shop supplier? Significantly, photo at right illustrates how much thicker Fat Wrap is then the very durable cork synthetic blend shown in photo. It's worth mentioning that the durability test of handlebar tape can be determined while wrapping gel pads. I've had some tapes tear while getting the tight wrap necessary to ensure the pads stayed in place without feeling "squishy". Perhaps it's due to the sheer girth of this product which contributes to such a nice durable feel when installing as while I pulled and stretched it tight to ensure the tape would cover the entire handlebar I soon realized I wouldn't have to be concerned about tearing it.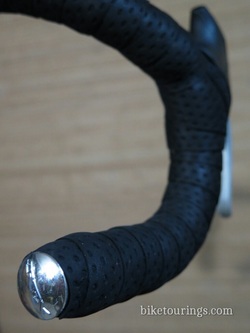 If I have one criticism it's that the Fat Wrap didn't include bar end plugs, which although not an issue around here as I had plenty extras to choose from other folks may not. However, a trip to your local bike shop might provide a set for free or very inexpensively.
Fat Wrap is so thick that when I attempted to begin to wrap the drop bars (photo at left) by tucking the initial portion inside the handlebar and then inserting the bar end plug like all other handlebar tape the Fat Wrap kept kicking the plug out. All this is covered with the included product
instructions
but I had to test it out myself for this review.
As barend plugs are designed to fit with bar tape tucked in I added a short piece of cloth rim tape to ensure it would hold securely. Fat Wrap is designed to be wrapped flush with the handlebar end so the accompanying instructions which suggest using a short piece of electrical tape to secure Fat Wrap tape to the bar when beginning the wrap proved very useful.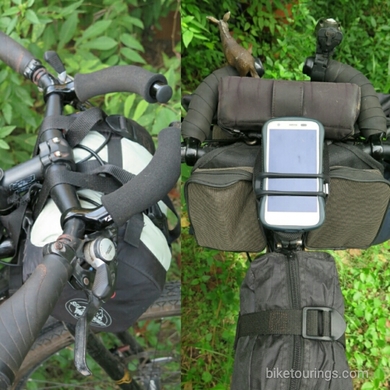 While adding some hand positions to my mountain bike for bikepacking I installed some inexpensive plain old foam grips (left photo) over the bar ends and then wrapped them with some extra tape from the shop.
Although this provides more than ample hand comfort it is a bit squishy and I'm concerned it will wear out rather quickly as the tape flexes with the cushy foam.
This is an excellent example for highlighting the textured surface of
Fat Wrap
which feels to provide a much better grip so important on the trail while maneuvering a loaded bikepacking rig over rough terrain. Not only does Fat Wrap offer a better textured grip but the product feels sturdier simply due to the fact that it is applied directly to the bar surface eliminating slippage or quickly wearing out under rough handling. We really like this product from Canadian based
TASIS Bikes
and their
Fat Wrap
and look forward to sharing other products that
Kent
might be coming up with for fellow bike touring folks. Use any of the bold text links or photos for more information or to purchase.
Links Related to this Topic
Bike Fit Basics
Fit Well Bikes
Ergonomic Cork Grips
​
Posture for Bicycle Touring
Treatment for Sciatic Pain