New Bike Touring Fund Raiser for our Store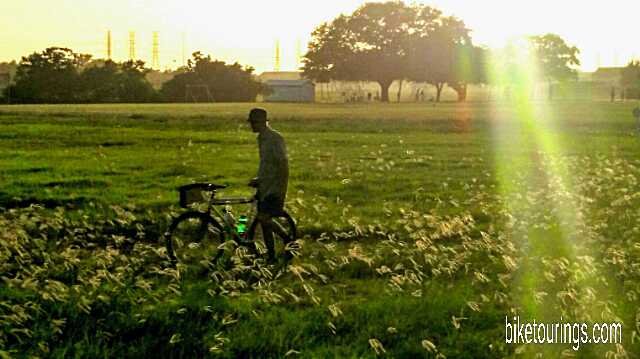 It has been six months since my previous blog post so where have I been? Our little store was in trouble and I had to go help after the business owner who shared the lease with us decided to suddenly quit without notice.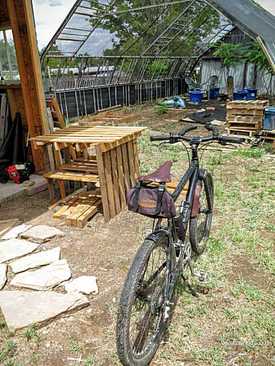 The case of the missing juice bar. Being a small business owner, entrepreneur or any type of self employed venture can at times feel like a test of endurance. It's important to take some time off, retreat, recharge and refresh. So, late last summer while making an effort to do just that I planned a nice little getaway to
New Mexico
, visit family and do some bike packing or mountain bike touring. Instead I took care of some much needed maintenance around Granny B's mini pecan grove, herb garden and while doing so discovered a major gas leak to the house.
Then I received a phone call that the owner of the Juice Bar back home in League City, Texas decided she was done with her business and was shutting it down. Unfortunately our store depended on the Juice Bar paying half of the lease for the newly acquired commercial space. So, did it feel like I went on a nice vacation to refresh and recharge? Absolutely not! As soon as I could I was forced to pack up all my bike touring gear and return home to help find a solution to keeping our six year strong
organic food co-op business
going. There's a reason our little store has been so successful for the past several years and that reason's name is Lisa Piper.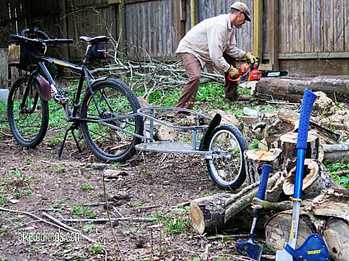 Before coming up with solutions for funding a rather large buy out of the former juice bar I had to process some much needed frustration. Luckily there was a dead tree threatening to fall on my workshop and power lines that the city wouldn't have taken care of unless it fell onto the power lines. There's no metaphorically speaking mumbo jumbo I was just glad I could vent a bit and do something productive at the same time. : )
It was difficult to not be angry with former juice bar owner's sudden decision after attending a week long spiritual retreat where it seems that she "drank the kool aid" and the lack of consideration of her effect on her business lease partner and family. So, yeah I was pissed off and after the saw dust settled Lisa told me about her solution to help cover the lease by renting out the
commercial kitchen
to our local vendor product suppliers. But we still had to figure out a way to make use of the rest of the old juice bar space.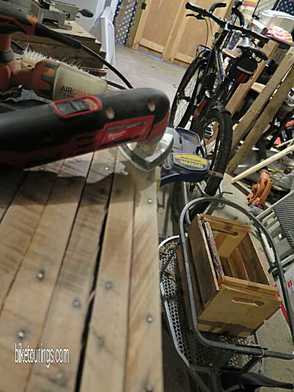 So, this is how I helped to handle the situation in an effort to benefit our little store's efforts in our community. Firstly, I took the old juice bar table tops which had sayings stenciled on them like "Go Ahead and Tease Me". "Feed My Soul" and "Let go and let Smoothies" and cut them into useable sizes for much needed wood crates that would help our staff with maintaining our weekend farm and garden sales table.

Photo at left shows the stackable creates in the bike trailer (which I got a lot of use from for these tasks) and can be used to fit inside of coolers to store and keep produce fresh overnight. By the way, if you're looking for some cordless power tools for around the house or even somewhat industrial use I have a huge fond appreciation for any of the Milwaukee M12 line of tools, especially the recently acquired hammer drill after burning out the chuck and motor of my old drill.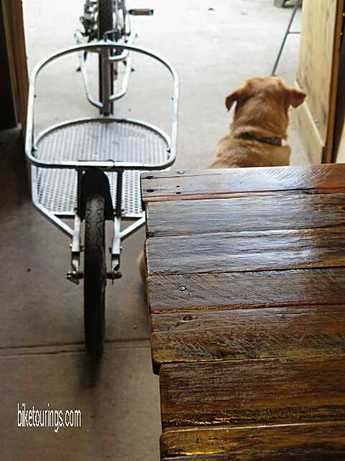 After cutting up the old tables for crate use what would we do for tables then?
I replaced all three poorly made tables from particle wood and cheap trim with some elegantly funky upcycled pallet wood.
After I got them all installed for use in the newly acquired cafe space we received a lot of complements from folks who probably got tired of reading those previously described silly messages on the old tables.
While putting this post together first thing this morning I received a call from the store that another one of our staff has had to give her two weeks notice as she simply needs a better wage. It's just a reminder of how the inconvenience of the former juice bar owner's behavior and the forced buy out effected our funds in such a way that we are unable to offer better pay to our much valued staff. So, with that I can make first mention of our fundraising bike tour with a link to our
GoFundMe page
.
It's important to mention that given the angst created on behalf of other folks' decisions and actions the former juice bar owner continues to be a loyal customer and supporter of our business. It wasn't about us or our business why that person made the choices she did. And all the while Lisa received many complements over the past several months in regards to how well she has been handling it all. I will be conducting a nice long bike tour visiting organic farms, gardens and co-ops in an effort to raise funds for our store's co-op garden and cafe. I have just recently put together a
GoFundMe Campaign
for our store's continued efforts to serve the community. For more information about all that the
Natural Living Country Store and Cafe
does here use any of the underlined links in this post or use new widget below.
Looking forward to honing my bike and blog skills as a means of providing a meaningful and significant contribution to our Store's funding effort. So far I have been realizing how much work it is to put such a campaign together and the logistics of bike touring while working. Very different than simply putting together a bike touring vacation where it's much more of a recreational activity than an electronic gadget filled effort of blogging and posting to social media. Anyhow, look forward to more posts regarding bicycle touring route and establishments along the way. I have no doubt despite all the hard work and effort I will still be able to enjoy myself. : )