Or Simply Use a Folding Bike for Travel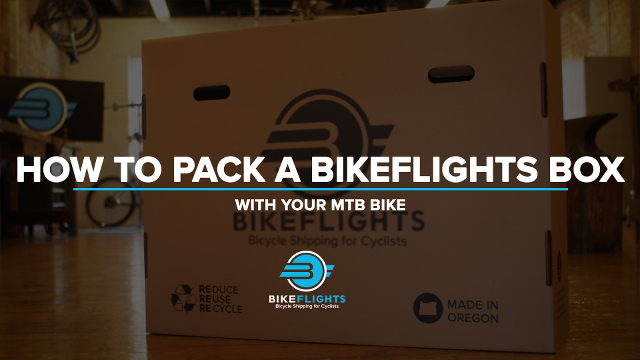 Click on photo for detailed instructions and how to videos for packing your bike to take with you on for travel by plane
This guest post from David Bender, an avid cyclist who has travelled to more than ten countries with his bike. describes some methods of packing your bike to affordably take with you on a plane. He writes a lot about bikes at his blog.
When not attending to his
blog
he enjoys riding around the neighborhood.
How to Fly with a Bike the Cheap and Easy Method
If you are a fervent mountain bike rider, at some point your adventures may include international travel with your beloved bike. You may be bringing your bike along during a holiday vacation, participating in a bike tournament abroad or simply looking to experience the thrill of exploring new, foreign trails. Transporting a mountain bike is regarded as an immensely tedious and costly undertaking by several mountain bikers but it needn't be this way. This post will pilot you through the ins and outs of bike packing and show you the most affordable, safe and hassle-free way to
fly with a bike
.
Preparing to fly with a bike
Your flight's success will be determined majorly by the way your precious bike will be handled in transit. You can improve the chances of having a successful plane trip with a bike as luggage by preparing adequately. As you plan your journey, be sure to include the following:
Look into the various airlines' bike-luggage policies to identify which one best suits your needs. You may want to consider their weight and size allowance alongside luggage charges. A majority of international air transport service providers agree on general baggage allowance of below 50 pounds weight and 62 dimensions size
Decide which method of bike packing aligns with your preferences and prepare it in advance. You'll need to purchase your bike's packaging with its corresponding provisions including duct tape, wrapping twine and bubble wrapping
Acquire a set of bike tools like Allen keys and hex spanners for use during partial bike disassembly prior to air travel and re-assembly after arrival
Measure and record all adjustable bike parts like handlebars and seat-post height before setting out to disassemble the bike- this will save you substantial time when tuning them to your liking after reassembly.
How to pack your bike for air travel
Today, most airlines require that all bikes be partially dismantled and packaged for cartage although they only recently allowed them to be wheeled right into plane's luggage bays in polythene bags. Airlines relay numerous reasons for these require provisions including:
It's necessary to reduce the size of the bike so that it easily fits on airports' luggage conveyor belt systems
Packaging will help protect the bike from damage and theft of some parts
Boxing up your bike ensures it doesn't interfere with or destroy other luggage
Wrapping up the bike aids in easing its transport by luggage-handling crew
There are various ways of packaging your mountain bike for a flight. While the easiest and most cost-friendly are using cardboard boxes and clear plastic bags, the more costly ones are by use of bike cases and bike travel bags. Admittedly, the latter are also safer thus more reliable than the former. However, this doesn't mean packing your prized mtb in a clear plastic bag or cardboard box is a trumpet call to have it mishandled en route- on the contrary, your bike is actually handled more delicately when in clear wrapping or fragile cardboard boxes. Nonetheless, you'll need to go the extra mile in using extra padding like bubble wrap if you choose to pack your two-wheeler in a soft box.
Whether yours mountain bike
or the most costly cycle dragon in the market, airlines will require you to adhere to their strict luggage weight and seize restrictions otherwise they'll be glad to charge you heavily for excess baggage. You should do the following to stay within package size boundaries:
Disengage the front wheel to reduce the length of your bike then screw back the axle into the forks to shield them from warping
Unfasten the stem and push the handlebars down to reduce your ride's height. Further, turning them parallel to the frame will lessen the width of the bike
Unhinge your bike's pedals or twist them inward if they are foldable. This will also condense your bike's width.
If your bike has disc brakes, be sure to unfasten them and secure the brake pads with padding between them to prevent scraping
Disconnect the rear derailleur from the frame to protect the two from damage in transit. You can also secure the derailleur with duct tape or bubble wrap for added protection
Partially deflate the bicycle's tyres as required by several airlines. This is supposed to shield your tubes from rupturing at high altitude
Lowering the bike's seat-post before packing aids in reducing its height to the required 1m or below
After packaging, ensure the box, bag or polythene is carefully labeled with your name and address (home or destination) to streamline customs clearance as well as aid in convenient shipment in case it's lost.
Post-packing tips
Once it's handed over to the luggage-loading crew, there's little you can do for your precious cargo but cross your fingers and hope the baggage handlers will be careful. However, you can take pre-flight precautions to safeguard your bike from avoidable damage by ensuring it's packed with sufficient padding to absorb and transmit most of the shock of impact. Further, it's imperative that you ascertain whether the airline's luggage insurance covers damage, loss or theft of bikes in transit.
Final words
It's clear from this post's coverage that international air travel with sensitive luggage can be a tricky undertaking. Still, we are optimistic this post has presented practical tips on the easiest and most affordable way to
fly with a bike
without compromising its safety.
​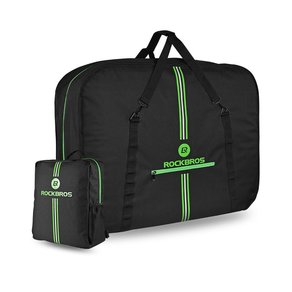 My previous post I touted the benefits of having a
folding bike for travel
and there is no better example of how convenient it can be than if traveling by plane. That post doesn't mention or describe my favorite travel bag for stashing the bike because I didn't need to use it on our road trip. After reading the information presented above consider this from a reviewer of the
Rock Bros Folding Bike Carry Bag.
"​
Great folding bike bag! Best I have ever owned. Intelligently designed to include a comfortable lightweight matching backpack which can be used when traveling to hold the folded bike bag: get off the plane get bag at carousel unpack and unfold bike and fold bag into backpack and bike away. Backpack also has velcro so it can be used as a handlebar bag".

Learn more about David and his relevant content for mountain biking enthusiasts at his site Best MTB Gear.
Or visit him at
Facebook or
Twitter