World By Wheel Shares Valuable Insight from Rolling Through Thailand
Max and Cynthia of
World by Wheel
share their hard earned bike touring wisdom and expertise while adapting to the challenges of bicycle touring through Thailand. A place they have come to truly appreciate. So if you're interested in planning a bicycle touring trip to Thailand enjoy they're guest blog post and click on any of the links to visit their comprehensive pages for more information.
"Pushing down on the pedals with all the strength in my body, beads of sweat began to mix with sun-cream, burning my eye. I don't pause to wipe my brow, and instead keep both hands firmly on the bars, rocking them vigorously side to side. I look over my shoulder to see Cynthia in a similar struggle, standing high on her pedals, determined not to lose momentum on the steep incline. I am filled with a combination of both desperation and curiosity, pushing harder, eager to uncover the mystery of what lies around the corner.
Then, just as we begin to think that the struggle will never end, the top of the hill comes into view signalling the end of our pain. The landscape begins to open up in front of us, presenting a panoramic view of lush fields as far as the eye can see. Finally demounting from our bikes, we stop and rehydrate, both savouring the last drops of water in our bottles before admiring the fantastic horizon laid out before us. The satisfaction is unbelievable. Any doubts we had have disappeared, the result was definitely worth the struggle and we both relish the reward. Now the fun part begins…"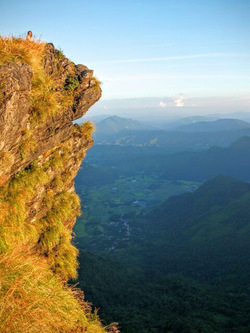 Cycling around Thailand is an experience that is definitely worth the small moments of hardship mentioned above. It is one of the most pleasant countries to be in, filled with picturesque landscapes and such humble, relaxed people. Riding through the heart of local communities seeing surprised expressions as we pass by is an awesome experience, enthusiastic smiles and waves offer us support and encouragement when our legs really feel the strain.

When we rode through northern Thailand it was fortunately the ideal season. The nights never came too cool, there were few tourists around and we had few rainy days. We were there in October, before the high season of Christmas holidays, meaning that we never had to worry about finding accommodation last minute and giving us the space we needed when in spiritual settings.

The weather between October and February is fairly dry, along with another dry spell between March and May. At the end of May the wet season starts to have an impact on the northern region giving it its lush looks. With another large showering of the country between July and September.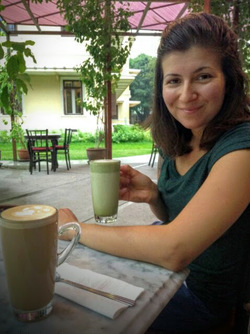 We took the train from Ayutthaya up to Chiang Mai, using the city as a base from which to explore from. Chiang Mai itself is a charming ancient city, with its centre encompassed by a city wall, accessed through four gates. The city is incredibly diverse, from impressive temples to new concept malls, there is something for any traveller. For any coffee addicts, this is the place to be, with strong scents of coffee beans waft between streets, alluring you along a trail of incredible cafes.

Travelling around Thailand by bicycle is one of the best ways to understand this incredibly diverse country. Taking the time to appreciate every face that you pass, and eating in places that you wouldn't normally think to stop at offers experiences that many others would miss, all whilst being able to truly absorb the complex canvas of colour that Thailand's landscape offers. ​
This region of Thailand is nestled between Myanmar and Laos, while the close presence of China can also be felt. The influence of these neighbouring countries has an impact on the northern part of the country, and there are noticeable changes to faces, foods and language. The cooler temperatures of the north meant we really appreciated the hot soups and spicy sausages that are typical of the region.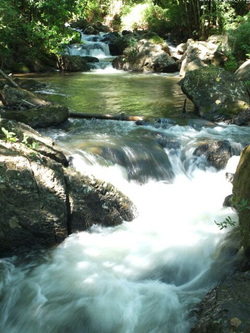 Exploring west towards the border with Myanmar offered us the opportunity to explore some magnificent waterfalls and National Parks, and was a welcome break from the polluted city centres of Thailand. From here we headed East, heading towards Laos, via the magnificent mountainous area of Phu Chi Fa. The ride to Phu Chi Fa is phenomenal, and being on a bicycle really makes you appreciate the sheer scale of these mountains. Keen to experience the magical sunrise and view the mystical 'Sea of Mist', we were up and out of our beds at 4am, hiking to the viewpoint. Seeing the golden sun slowly rising above the clouds is quite the awakening, as the sun rose higher, the clouds began to disperse, revealing what they had hidden. As the thick blanket of cloud faded away, we were treated to our first view of Laos, a picturesque landscape of a river meandering through small, straw-roofed villages and the criss-cross of farmers' fields.
​
What have we learned from this
?
The hilly terrain of Thailand is unforgiving and you should ensure that you are well prepared.
It may sound obvious, but always carry plenty of water, and ensure your bikes have enough gears. A lack of foresight on our part meant that we struggled with these two factors, and at times were cursing our lack of preparation. We recommend bringing a bike from back home that you are comfortable on and fully understand its capabilities.
The mountains of Northern Thailand were a dramatic start to our bike touring passion. Our only regret from this experience is that we didn't see more. It would be fantastic to visit other regions of this magnificent country, and we look forward to making a return visit. For more information on the routes we took check out our page on Thailand.
Worldbywheel.com/
thailand
Our recommended way to remain hydrated and respect the environment is by using a Grayl filtering bottle -
worldbywheel.com/equipment
Who are Max and Cynthia? "We are a English/Quebecoise couple who have discovered the adventurous travel style of using a bicycle. We have just completed a tour of South East Asia and have many plans for the future..!
Visit their site at
World by Wheel
where you can sign up for their newsletter and follow their travels.