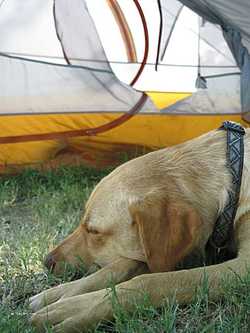 My recent bike camping visit to New Mexico provided an excellent opportunity to compare some new and old tents while working around some family property.
This past summer had proven to be a very challenging time for a lot of friend and family folks for varying reasons which effected my bike touring plans for the months of late July and August. In an effort to make light of those facts I blogged about it
here
, Lisa found it to be rather amusing.
Anyhow, after finally getting some bike packing travel plans figured out I debated over which tent to take to sleep in with my dog after our house and puppy sitter flaked out. So I decided to pack both the REI Quarter Dome 2 two person tent and the
Alps Mountaineering Lynx 1 person tent
. Both tents offer a "quick pitch" method using only the foot print and rain fly as an optional simple shelter.
Although the Quarter Dome 2 is much roomier with dual entry and vestibules it weighs approximately the same as the Alps one person tent (three and a half pounds) which has a single entry and vestibule although the vestibule is quite large for storing panniers, packs, shoes, etc. How the Quarter Dome is capable of being so lightweight is that the rainfly and tent body are made of very lightweight fabric that can best be described as unpacking a material which resembles plastic cling wrap used in a kitchen. Lisa immediately voiced a concern about the fabric being "too thin" for use when camping with the dogs as they could possibly tear the floor fabric. As it turns out Lisa's evaluation of the fabric was correct as shown in photo above it was way too easily torn by a stray year old lab puppy who insisted on keeping me company by sleeping next to the tent every night. Previous to that while we camped one night using only the mostly mesh tent body without the rainfly our three year old dog was startled and made an effort to lunge out hitting the mesh and creating stress tears in the base fabric of the tent body. It was easy enough to repair those tears but the other damage caused by the lab pup pawing at the tent will require us returning the tent to REI. Will update this post later.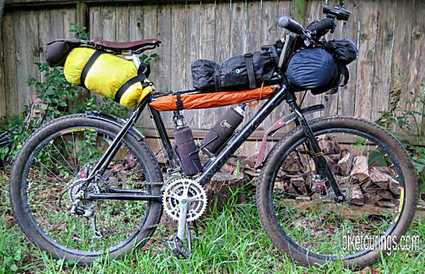 Another important consideration is tent pole length as poles which are exceptionally long are a hassle to pack properly especially for bicycle touring and bike packing. At ​??? inches I was barely capable of tucking the Quarter Dome 2 poles under the top tube of my twenty inch frame mountain bike. Also, due to the "single pole" packing design where all the poles fold around what I would call the tent pole hub and the slightly curved design of some of the pole sections I was concerned about them getting bent. In comparison to the Alps Mountaineering poles which are two simple poles with pole sections that fold and pack flat. Also note the convenience of being able to pack the Alps Lynx 1 tent poles into the top tube of bike packing rig pictured above.

I could go on and on saying the praises of the Alps tents materials, ease of packing and pitching. As one reviewer of the Quarter Dome 2 is quoted as saying "it's not the type of tent design you want to try to set up after a few drinks" implies that it needs to be set up a few times to get familiar with the design for pitching at night or if in a hurry for inclement weather. When the same stray lab puppy tried to get in through the rain fly vestibule while it was zipped shut he evidently became frustrated and chewed through the guy lines which were staked down for the gusty New Mexico monsoon weather.

So, all that having been said here are top four suggested features of a tent for bicycle touring or bike packing followed by a list of our top four tent picks which all weigh less than four pounds.
1. Packing friendly aluminum tent pole length which can fit inside a pannier, bike bag or pack or strapped to the top of a front or rack so as not to adversely effect navigating the bike especially on trails.
2. Materials pack down small enough to fit inside a pannier, seat bag, or can be strapped on to a front or rear rack or handlebars in the case of bike packing.
3. Ease of setting the tent up whether it's due to being in a hurry with bad weather with free standing design.
4. Durable enough that a dog doesn't tear it too easily. : )
Our Four Favorite One and Two Person Tents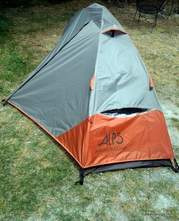 1.
Alps Mountaineering Lynx 1 Tent
has become a personal favorite for several reasons least of which is how incredibly affordable this tent is at under a hundred bucks, compare to the three hundred dollar Quarter Dome 2 previously described.
After deciding to add the ground cloth (sold separately) I have no doubts about the durability and quality materials of this tent. Large vestibule for storage of personal items, absurdly easy to set up even with lots of wind and includes a gear storage loft which I have found very useful for holding other small personal items while bike camping.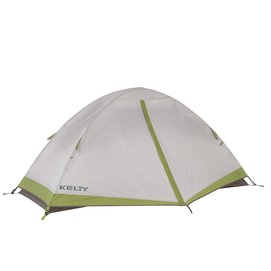 Another quality free standing one person tent option that is light weight and pack friendly with manageable pole section lengths is the
Kelty Salida 1 Tent.
Footprint is also sold separately and doesn't include a
gear loft
like the Alps Lynx 1 tent but is very well reviewed and slightly lighter than the Alps model.
Another thing I like about this tent when compared to the Alps Lynx 1 is that it doesn't have the little transparent plastic windows on each end of the rain fly which probably contributes to this tent being slightly lighter weight.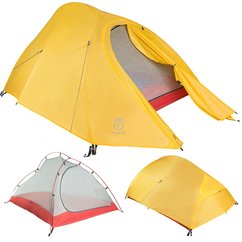 Personally this
Bryce 2P Two Person Ultralight Tent and Footprint
is not only a much more affordable option to the Quarter Dome 2 at under two hundred dollars and it includes the foot print! Also, the packed ple section length is very manageable at just seventeen inches.
This is a highly reviewed tent weighing less than four pounds. Couple things I don't like about it are the seventeen inch packed pole length and single pole hub design very similar to the Quarter Dome 2 poles described previously.
This is going to be the tent to replace the Quarter Dome 2 tent. With pole section length of just fourteen inches, weighs less than four pounds, easy to set up and at a hundred dollars less than the QD2 I'm excited.
This is the
Kelty TN 2 Person Tent
which although the ground cloth (foot print) is sold separately it's still an awesome deal and the only tent I have found with the option for parking my touring bike under an accessory tarp shown below, also sold separately.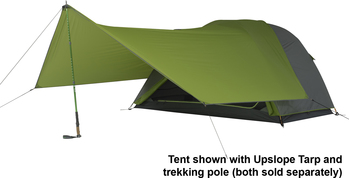 Optional
Kelty Upslope Tarp
shown being used with trekking poles (sold separately) or as I have mentioned for use with a touring bike with a double kickstand. Of course the Upslope Tarp can also be used by itself as a simple tarp shelter if needed. Excited about the possibilities with this tent and tarp combo.