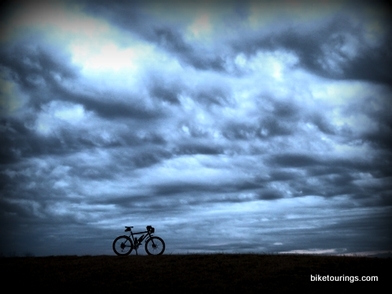 I was listening to a couple of local organic farm folks complain about the deceptive practices of supposed organic farmers that actually use conventional methods with the majority of their crops. "Ah, he's a poser" exclaimed one farmer fed up with the fact that the ill reputed farmer didn't actually even work on his own farm. So the word "poser" certainly is meant to be a slight toward someone with negative implications.
It also suggests some sort of right of passage within one's peer group. Listening to the banter reminded me of some of the BMX kids I had working in my shop some years ago and I would listen to them say things like "oh yeah, that dude is just a poser". It used to conjure images in my mind of some kid being happily content with looking cool and sexy on his BMX bike because after all, chicks dig it and chicks dig a kid who knows how to look good on a bike and to a tried and true bike poser that's really all that matters or at least it sounds good and if nothing else is empowering to a true bike poser who claims his rightful place in the cycling world, oh yeah, it's all good.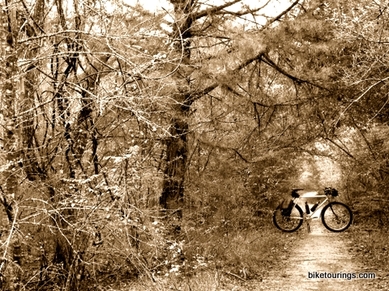 This is all good timing for me as I sort through batches of bicycle touring and commuting photos for print selections. While I have been out and about on my bike travels the past few years I would look for a nice spot to pose and position a bike for what in my humble opinion was considered optimal positioning for composition. So, that's what I'm calling this little exhibit of bicycle oriented prints, "Bike Poser, Fun with Photography". I like it so when someone asks are you a cyclist or whatever way some bike folks get intensely competitive about I can say without apology, shame or remorse "oh no, no, no, I'm a bike poser go buy one of my original bike poser prints if you don't believe me". Hahaha, oh that's good stuff and now I'm even considering looking up bike poser dot com to see if it's available for promoting a bicycle yoga class. : ) Hey, you know the old saying plan your work, work your plan.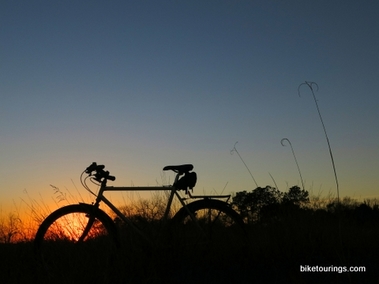 I recently received a silly phone call from a gal with or using a thick, heavy southern drawl describing her bike as having five wheels and one pedal and asked if I could fix it. I can now respond with something like "I tell you what, call the Bike Poser I'm sure he can do something with it. You're darn tootin' he could and when no other so called "cyclist" would bother with something so absurd, a bike with five wheels and one pedal would surely make for some interesting photography. Probably just need to know how to pose it correctly and so yep get a bike poser on it.
All cyclists are posers they just don't recognize it or are in denial about it due to the negative slander regarding the term poser. This is particularly true when considering riding posture which is so important and with so many shops selling their extensive bike fit services the term bike poser could definitely be used as part of a marketing campaign. It's virtually impossible to become a bike poser with agonizing posture or riding a bike that at least looks to be agonizing to some. Most all of the popular bicycle photo themes which are popular with mainstream society not necessarily folks who are cyclists are of very pleasantly romantic notions which are often associated with a pleasant bike ride. Hence, the most popular bike photography are of a bike poser theme. ​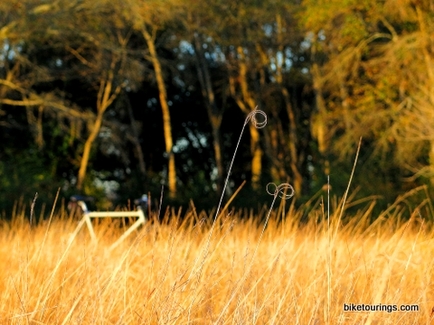 As much as bike posing is a nice method of controlling the creative process, those grass designs were already there.
This is all just said in good humour of course as the fluid motion of a talented trail rider or a fella bike touring, displaying good posture and smiling as he pedals his loaded panniers through a variety of countries is the essence of a true bike poser displaying his talent for his own ride. So, despite the negative connotation of "poser" most authentically joyful bike folks find themselves as bike posers on their journey of authentically riding for their individual wants or needs. Anyhow, with the current age of technology inspiring bicycle posed images by the thousands I just wanted to acknowledge much of the talented bike poser posing which is a fun way to honor modern bike photography.
It's been a long while since I have had any of my photography printed. Back when it was all about using the finest grain of slide film possible, mounted to a tripod and gloriously celebrating the rich colors and contrast of the resulting cibachrome print. It was a lot of work, a labor of love of course sprinkled with a considerable amount of discipline to achieve the desired results.
After years of being away from practicing the craft of photography I was pleasantly surprised to find that many of the old disciplines are as true today as they were twenty years ago. For a nice quality print the camera lens still needs to be made of quality glass, slow ISO is required and consequently the frequent use of a tripod. Because of this fact it makes sense to pose a bicycle in the composition when creating a photo and by way of doing so I was reminded of how a bike just seems to fit it anywhere one feels like going on it.


I understand that nobody likes to be called a poser it's basically saying someone is a fake, superficial, lazy good for nothing wanna be who really doesn't live the reality of some clique created mindset. That's what that is but for this piece it's simply posing the bike itself honoring its' simple form and function in elegance, grace and potential power that only a bicycle can project. My understanding is that these are just a few of the reasons bike folks love bicycles and why many folks appreciate a nice bicycle oriented photo. So, the next time you're out and about wanting to make a poser out of your bike don't worry the bike itself can handle it.

So it's settled then, I'm going to finish getting my prints together and go with the new title of "Bike Poser, Fun with Photography".

Links related to this topic:
Camera Favorite for Bike Touring and Commuting
Tripod Favorite for Bike Touring and Commuting
Bridge Cameras for Bike Touring
Bike Tourings' Photography