Hot Weather Tips for Bike Touring and Commuting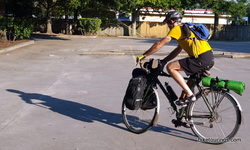 Several years ago an old friend gave me some pretty solid advice (no, it wasn't my dog) to "follow your shadow". There were some other rather esoteric connotations left for me to derive from that but for practical considerations of helping to stay cool if your ride gets too hot is to put the sun on your back and follow your shadow. It's rare that I find myself in such a situation where I feel that I have needed to change course or direction to avoid being over heated but on a couple of rare occasions it has been good to know.

For example while riding through a long stretch of hot, dry, barren portions of New Mexico I found myself riding into winds of over twenty miles per hour. It wasn't too bad at first but after thirty minutes or so I realized the wind was drying my perspiration so that my body wasn't cooling properly. It was an oddity and something which hasn't occurred since due to the rare combination of elements at the same time. Riding directly into the sun and extreme wind in an extremely arid climate with no shade even though I was exercising it was like riding into a very hot blow dryer. Because I was familiar enough with the area I knew I could make it to a shaded desolate truck stop before my skin was damaged from what felt like a cooking effect. If I had thought of it I probably would have turned on to a side road for a bit and "followed my shadow" for a bit help my parched face and skin to cool off. Fortunately it wasn't necessary and that experience, including a few similar ones have given me some solid preparation skills for riding in hot weather.

I have been reading a bit about proper hydration methods for cyclists lately, if just to check in with what folks are fussing about these days. Debunking myth of coconut water being better than regular water, whether or not you need an electrolyte drink, adding salt and or sugar to your water for better absorption. That's all fine and whatever that is but when I start reading about "how much water you should take on a fifty mile ride" I immediately holler out nonsense! Oh sure, I will only consume twenty ounces of water on a fifty mile ride on a hot summer day under ideal circumstances. Fine, but if I get a flat, or some other haphazard event such as the winds decide to kick up off the Gulf from a different direction that wasn't in the weather forecast (which occurs quite often) then the amount of time to ride that same distance can double when riding into strong winds. I am not a worry wart or an overly prepared "expect the worst, hope for the best" type of bike folk. Rather, based on personal experience I take enough water for hydrating under ideal conditions as well as if my ride decides to last twice as long or longer than planned. Another factor besides summer heat is humidity. Humidity has been much less challenging than the blow dryer effect in New Mexico but is certainly another consideration as to how much water is needed to ride x number of miles.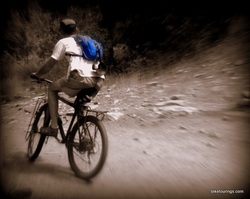 My favorite method of simple hot weather bike touring or commuting hydration has been the use of a small seventy ounce hydration pack for convenience. Most folks ride the same bike to commute on and maybe have another bike for touring. I have four or five bikes I like to use for bike commuting and a few I like to ride for bike touring and camping and depends mostly on the type of terrain I will be riding. My point being that having a hydration pack makes it easy for me to pack my helmet light, a rear light clipped to the hydration pack, multi tool, tire levers, patch kit, a few snack bars and a couple of spare tubes in different sizes so that whatever bike I'm riding I'm prepared. I like the smaller size particularly for summer as I hardly notice the weight and is very comfortable to wear in a cycling specific design. I also appreciate the blue color of the pack as it seems to be sort of cool and refreshing visually when I'm not wearing it.
High Sierra
offers smaller hydration packs that are well made and very affordable. I have been using mine for three years now and it still looks brand new. After replacing the bladder reservoir this year I'm sure I can get a few more years of use from it.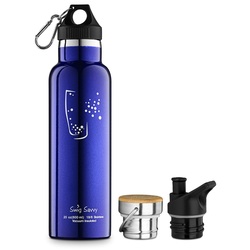 For longer full day bike touring during the summer months I don't have to carry as much gear, particularly warm clothing or cooking equipment. For a typical day of bike touring which consists of forty to sixty miles having at least one full insulated water bottle with my hydration pack works very nicely. An excellent choice for this is the
Swig Savvy Insulated Water Bottle
that can be used with hot or cold liquids. Very durable quality steel water bottle with three different bottle caps included.
At the end of a long hot ride I don't like drinking hot water but this type of water bottle keeps it just cold enough when I add ice before my ride so that the water temperature is not an issue, even after a long day of hot weather bike touring. During the winter it can be used as an excellent coffee or tea thermos for either bike commuting or touring.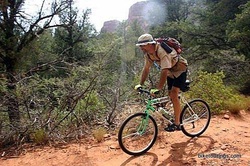 While preparing to finish up this post I asked the girls here what one item would they recommend for hot weather bike riding and they agreed on a shade hat. Good idea as they asked questions about the hypothetical ride circumstances their top two suggestions were sunscreen and a sun hat. Like a day at the beach, I got a good chuckle out of it and I like their attitude. Sure, sun hats work well preferably off of the bike as I prefer to wear a helmet particularly over rough terrain trail rides.
However, I used to wear my old
Kavu Bucket Hat
for all my summer rides as shown in photo of mountain biking in Sedona, Arizona. Yep it was hot and I kept the sun on my back for most of the return ride home. That old hat lasted several years until my puppy decided I needed a new one and chewed it to pieces while he was teething. Since I still have my
Kavu Visor
which has lasted even longer than the Bucket Hat and
Kavu Strap Cap
. Kavu products, at least the hats anyway are made in the USA based out of Seattle, Washington. Excellent summer head wear on or off the bike.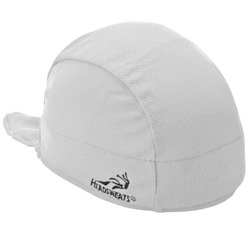 I wear a helmet when I ride and there are cooling benefits to be said for wearing a helmet. Well ventilated, sun deflecting, built in visor and when combined with a
Head Sweats Shorty Beanie and Helmet Liner
it's an excellent combination for beating the heat. This prevents sun burn or heat getting to your head through the helmets air vents as well as an excellent solution for keeping sweat out of your eyes. The shorty model doesn't have long ties on the back that could blow around in the wind on to your face in an annoying manner.
This is another on of those products that I have owned for several years and continues to work as designed.
Links related to this topic:
Variation of Hydration, Got Water
Little Hydration Pack That Could, Can and Will