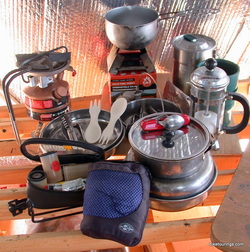 Bike touring cooking supplies
are as wide and varied as folks' food palates. There exists a vast array of assorted gadgets and contraptions for backpackers and campers to make a fire and cook with. Disposable fuel containers are a big no with us and the "all or nothing" method of some cook stoves are strictly for boiling water.
We like to cook good food and enjoy eating good food at home or when camping. We like our coffee in the morning and the times we get to spend together enjoying the countryside, beach or mountains while camping is made much simpler and easier with a good cook stove. Foodies is a new term I have picked up in the past few years by working with and around folks who are foodies and who may have food allergies and other dietary restrictions. Regardless of what your diet needs or tastes are I have found one statement that rings true for me from the wise and quirky writer
Lin Yu Tang
and that is "there are no taboos with food". Knowing this is true for myself (no food allergies) the only thing that can really muck up a potentially delicious meal while camping is having a stove that doesn't work well, requires regular maintenance, costs money for replacement parts or is just as finicky to get working as a cranky teenager who's hungry but too picky to eat anything so complains instead. So, when we go camping yes indeed we demand to have a cook stove that works and works well.
I like my old Coleman dual fuel stove (covered in a
previous post
) and my little
Pocket Esbit Stove
and found while solo camping in Oregon that it was sure nice having two stoves to cook with particularly when it was cold and raining. I was able to make hot coffee or tea while preparing a pot of rice or some potatoes I had picked up and after I was done boiling the water for hot tea I was able to saute some garlic and onions in butter while sipping my tea and waiting for my food to cook. With the Dual Fuel Stove I didn't have to carry around a container of fuel and found that I could get enough unleaded fuel for free at the pump just by draining what was left in the nozzle after someone pumped gas.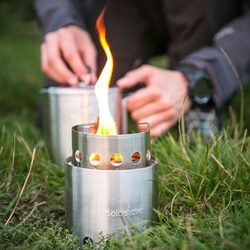 At some of my favorite bicycle touring blogs I have noticed a lot of folks are no longer packing along the ever popular Whisper Lite stove and have been choosing Trangia stoves for ultralight bike packing, backpacking and trekking.
Now that I find myself more often than not camping with a small group I wanted something efficient, versatile fuel source and economical as well as having the capacity to cook food for friends or family while camping. It was suggested from a long time veteran bike touring self proclaimed stove expert to consider the
Solo Stove
and I must say after reading all the rave reviews and the stove's award winning status it's a consideration alongside the
Little Bug Stove
. What these two stoves have in common is their ability to not only cook with wood but may be used with alcohol burners, fuel cubes or charcoal and during a cold day at the beach are nice stoves to get cozy around. I like the Solo Stove's Pot and burner kit as shown in photo for packing in a pannier.
Little Bug Stove packs small and is sturdy enough for a Dutch Oven while remaining very light weight

My reasons for making the stove shown at right is that it all packs into one nice convenient steel container with the

Stanley Adventure Camp Cookset

and provides three different stove options in one unit. When combined with the

Alocs Mini Set Stove

(adjustable alcohol burner) provides four camp cooking options.

Made from a simple but very solid stainless steel canister that was being used to clean stain brushes without rusting I decided to try making a camp stove for our bike touring camp outs. The two grill pieces tuck inside the canister alongside the Stanley cook pot as shown in photo below.

Another reason for preferring a versatile wood burning type stove is for cold weather camping. Having a stove just large enough to be warmed by for cold weather camping is sure nice to have. .