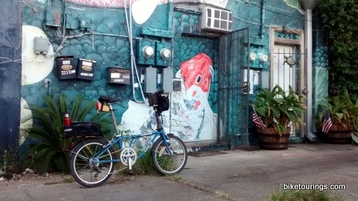 I have been enjoying the versatile features that owning a folding bike provides. One of those days when I was sticking to a scheduled work day and planning to go for a ride as soon as I was finished. Then the girls wanted us to all hop in the car and leave for Galveston.
Instead of saying something like "oh, I have work to get done and then I planned on going for a ride, you gals go ahead". Because I knew they were in a hurry to leave I didn't feel like getting the car carrier rigged on to the back of the vehicle and delaying their fun. So, I aired up the tires of my
Dahon Mariner
, put some snacks in my hydration pack, grabbed my handlebar bag with camera equipment, folded the bike up, tossed it in the back of the car and off we went for what turned out to be a very nice time with excellent weather.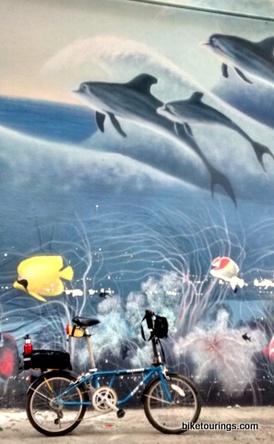 If I didn't have my folding bike I would have missed out on a fun little evening bike tour with photo opportunities so readily available on Galveston Island, Texas. Getting off the beaten track was easy with this little folding bike that has durable BMX quality casing and plenty of tread for navigating loose gravel or pot holes through the colorful, eclectic alleys. Photo above left is of a rather charming apartment area with alley access. If I hadn't been on my little folding bike I wouldn't have considered darting around alleys to get some thematic images pertaining to the
Dahon Mariner's
namesake.
Bikes and photography are a fun, rewarding hobby that's our entire family can enjoy. For this reason I decided to keep this folding bike although I had considered selling it a few years ago. However, when I consider how many times I have used this bike for travel when it was inconvenient to load a full size bike onto the outside of our vehicle the bike has more than paid for itself.
I took this bike to Kansas one winter for Christmas deciding that I didn't want my bikes exposed to harsh freezing temperatures, snow and ice. This bike takes up very little room when folded and fit inside our little Scion XB along with luggage for three women, which is saying something if you knew how much these girls pack for a trip.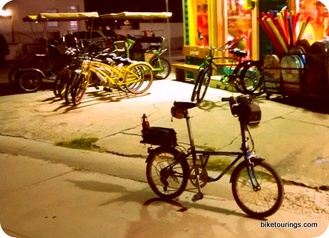 By now my family knows how important is for me to have bikes in my life and how much I enjoy having a bike or two with me on vacations. I have a bit of a "don't leave home without it" attitude and ensures I can get away from it all as needed. So, rather than renting a bike (which has been suggested to me in the past) I prefer instead to ride my folding bike. I can take it with me anywhere as it's efficient and versatile enough for most vacation destinations. No, It's not the bike of choice for taking to Moab, Utah but it's sure fun for sight seeing, photography and errands to the store while car camping.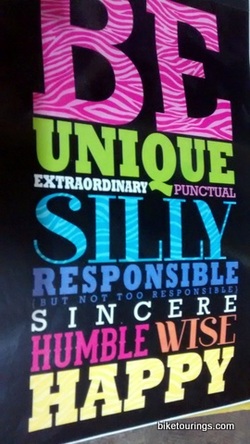 There is something very warm and friendly about a folding bike. While pedaling the busy sea front with lots of foot traffic folks are typically smiling and congenial stepping aside to let me pass perhaps due the bike's low impact style and presence. An old friend in Portland loves his folding bike for commuting and while visiting my sister my brother in law came out to listen as the friend praised the abilities of his folding bike. When my brother in law said "ya right, until someone sees you on it". As if to suggest riding a folding bike is somehow embarrassing? Don't know, don't care, folding bikes are very fun, very versatile and can maneuver through tight traffic jammed areas like no other bike I have ridden. Maybe it's just not the right bike for someone who takes themselves too seriously? Ha, oh I take my bikes seriously even if I look like a silly little guy pedaling a silly little bike grinning ear to ear.
Folks have been gifting me some note pads the past few years. I don't actually use many of them and so I have a collection of them..I thought the cover of one of those note pads provides a pretty accurate description of riding a
folding bike
.
Links related to this topic:
Foldable Bike for Travel