Bike Touring and Commuting Information Award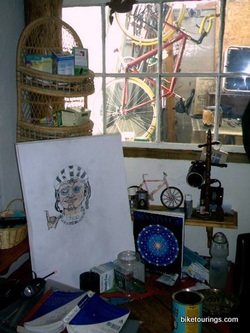 It wasn't as pretty a picture as the photo on the left might indicate when I was forced to close the bike shop in Carlsbad, New Mexico. Our quality of service was excellent including custom bike builds and lots of repair work. With a population of approximately twenty five thousand and being the only bike shop in town we would get darn busy at times. The bike industry can be pretty tough to make a living at as is most small business ventures which often require unrelenting attention and focus to succeed.

It was a very slow and painful process lasting approximately seven years of rebuilding a body and mind which had been so traumatized by incidents which will not be explained. I also needed to redefine my association with bikes and my love of riding, though it has been my love of riding a bike and the loving support of friends and family which has been the most redeeming factors of my and our newly acquired successes. I don't like to think about those past events much nor have I necessarily enjoyed acknowledging many of the mistakes I had made. That having been said what I am taking from that failure is not only that I had many successes at that shop but that any and all residual tormenting is done. How did that happen? Because I said so. That's what is meant by the phrase "what doesn't kill you makes you stronger". I would elaborate on the "strength" part as meaning inner peace, joy and balance which ironically are all experienced when I ride. Just as ironically is that I didn't "have" to ride to get here however the bike remains a treasured asset to ensure these qualities are easily maintained.
Most folks can relate to how moving forward in life necessitates letting go of the past so the timing of recently receiving an email like this one has helped with that process. So, I thought I'd give it a "blog about" by including the
press release
provided by the League City Small Business Award. Click on photo of awarded plaque for a description of the award or read the press release in its' entirety below.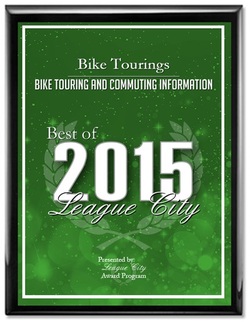 FOR IMMEDIATE RELEASE

Bike Tourings Receives 2015 Best of League City Award

League City Award Program Honors the Achievement

LEAGUE CITY July 2, 2015 -- Bike Tourings has been selected for the 2015 Best of League City Award in the Bike Touring and Commuting Information category by the League City Award Program.

Each year, the League City Award Program identifies companies that we believe have achieved exceptional marketing success in their local community and business category. These are local companies that enhance the positive image of small business through service to their customers and our community. These exceptional companies help make the League City area a great place to live, work and play.

Various sources of information were gathered and analyzed to choose the winners in each category. The 2015 League City Award Program focuses on quality, not quantity. Winners are determined based on the information gathered both internally by the League City Award Program and data provided by third parties.

About League City Award Program

The League City Award Program is an annual awards program honoring the achievements and accomplishments of local businesses throughout the League City area. Recognition is given to those companies that have shown the ability to use their best practices and implemented programs to generate competitive advantages and long-term value.

The League City Award Program was established to recognize the best of local businesses in our community. Our organization works exclusively with local business owners, trade groups, professional associations and other business advertising and marketing groups. Our mission is to recognize the small business community's contributions to the U.S. economy.

SOURCE: League City Award Program

CONTACT:
League City Award Program
Email: PublicRelations@awardcontact.org
URL: http://www.awardcontact.org

###

Letting Go of The Past, Old Bike Shop Photos