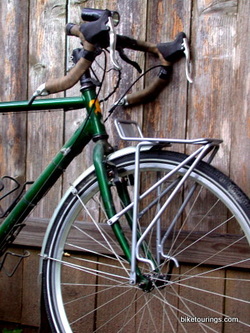 After noticing that the old Delta Megaloader front rack had become bent after almost ten years of solid service I wanted to replace it with a front touring rack that would mount to the mid way fork eyelets. There are several front bike racks available which provide that solution but I have been enjoying the top plate of the
Minoura MT 4000SF
front pannier rack so much I thought it would be fun to have that style of rack for my touring bike as well.
I am quite fond of my two front racks from Minoura, both provide low rider rack options and is something I usually prefer in a front rack. Also is the fact that Minoura's front racks are of steel construction offering disc brake compatibility and or suspension fork options. Here are links to reviews of the
Minoura MT 4000SF
(for disc brake and/or suspension fork) and the
Minoura FRP 3000
for road or mountain use.
Delta used to make a versatile front rack with their Megaloader option and when I noticed it had gotten very bent I decided not to attempt to "cold set" the material (bend straight) which is another reason I appreciate the steel racks mentioned earlier. I am accustomed to having a lightweight front rack on my touring rack and sought to keep it that way by upgrading to the
Blackburn MTF-1
. Although it doesn't offer the low rider style as the old Delta I appreciate the top plate for road grime protection and securing my front panniers to each other on the top plate. A couple years back I covered front touring racks from Blackburn and have had a difficult time locating the FL-1 low rider rack which was designed with the option of installing in combination with the MTF-1.
Click here
to read that older post.
This rack's design is actually a bit of an oddity with its' intended use for mountain bikes and trail riding by providing more ground clearance for front panniers. However the fit seems more intended for a touring road fork with the midway fork mounts. Some clamps are provided for mounting to a fork without those mounts but the overall diameter of the MTF-1 is more suited to a road fork and makes installation simple and easy.
Reviewers of this rack the number one complaint is the rack being too narrow for their fork. If your fork measures 4 5/8" or 125mm wide at the midway point it would be a tight fit requiring a bit of a stretch without effecting the integrity of the rack. I was able to accomplish this without having to pry the rack on for the rack to fit to the outside of the fork.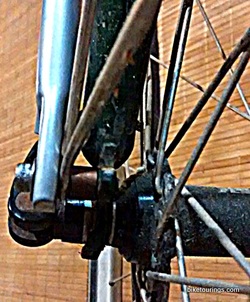 While the rack includes aluminum hardware mounting bolts which I replaced with steel bolts, the lower mounting points at the fork braze on required the use of rack spacers and is something not included with the mounting hardware. Your local bike shop can assist with all of this particularly if they are carrying this rack in their store, which brings us to the point of cost. The
Blackburn MTF-1 price
can be found for as little as just over thirty bucks or somewhere around seventy. I found the one being reviewed here for thirty four. Here are some technical specifications of the Blackburn MTF-1
Rack Weight: 1.31 pounds or 594 grams
Capacity: 25 pounds or 11.4kg
Material: 12mm gauge 6061 aluminum rod, Available in Black or Silver
After getting the rack mounted and test riding it with approximately sixteen pounds of total weight in two panniers I really liked the solid feel and handling I have grown accustomed to with low rider racks. At the time I purchased this rack the black model was thirty dollars more. Not that I cared much and thought the silver might look nice. Then I decided I wanted the front and rear racks to match so I simply painted mine black.