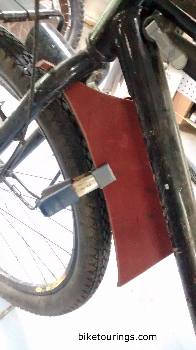 As a follow up to a previous post regarding the
Wald Splashguard Fenders
for folks who were concerned about the fender providing enough coverage for wet weather bicycle commuting or as one fella commented "getting a bikini shower". .
Several options are available for adding leather fender mud flaps, most popular being those from
Velo Orange and Brooks
. While they provide very nice products I chose to make my own since I had some pieces of leather stashed in my workshop.
Process of making a leather fender mudflap is fairly simple. I found a package of scrap leather a couple years ago at a local hobby and crafts supply shop for ten bucks. I would recommend using at least 1/8" thick leather as it holds its shape after being treated with a water proofing wax which tends to considerably soften the leather.
Photos shown here are of the
Wald #90 Balloon Bolt On Bicycle Splash Guard Fender.
Photo at left shown the piece of leather to be used clamped on the fender in order to make a template. It is the easiest way to account for the curvature of the fender. After tracing around the fender and cutting with a utility knife the leather mud flap measures 3 1/4 inches wide by 5 1/2 inches long with an inch to an inch and a half overlay on the fender for supporting the leather mudflap underneath.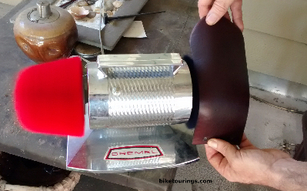 After the piece was cut to shape two holes were punched through at 3/4" from the top edge and 3/4" from the outside edge to accommodate the hardware for mounting to the fender.
Then I simply warmed the leather in the sun for half an hour or so before water proofing with Sno Seal. After rubbing the wax into the leather I was fortunate enough to have an antique shoe buffer to work the wax into the leather and provide it with a solid finish.
After drilling the fender mounting holes for the hardware it was installed onto the fender and allowed to dry. . I plan to make a rear mud flap and a set for the
classy classic old Puch
which has the narrower model of the Wald Splash Guard Fenders. I am really pleased with how these are performing after providing just a few inches of added protection, what me worry?
I am very pleased with how these leather mud flaps have turned out and have been asked if I am going to make them for sale. Though I haven't decided on that yet the mud flaps do look nice and the color matches the Selle Anatomica Saddle. A nice bit of luck considering the leather came from scraps hidden away in the shop for two years.