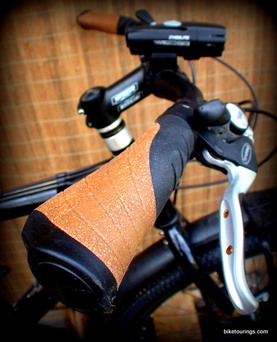 For handlebar tape on drop bars cork tape is preferred by many avid cyclists. So why would that be different for bike grips?
A big turn off for some folks was assuming they would have to use spray adhesive to install old fashioned cork grips. While that style of cork grip is still in use there are many cork grips available including all the features specific to virtually any other grips being made including ergonomic shape, locking grips or integrated bar ends.
Last year I found some locking ergonomic molded rubber cork grips. I hadn't heard of the
EVO SL1 Cork Grips
or read any reviews but was excited to try them for the very decent price based on the description. One of the reasons for my wanting such a grip was due in large part to the hot humid climate and wanting a grip that didn't feel gooey tacky like so many other grips tend to do after being weathered for a few months.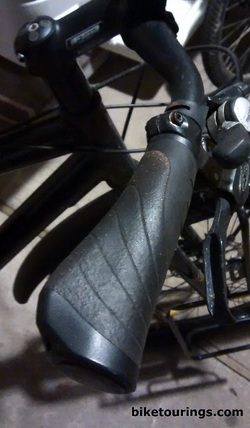 After a solid year of casual trail use, mostly commuting, bike camping and lots of exposure to the weather the
EVO SL1 mountain bike grips
have seasoned nicely. With a look and feel that resembles leather more than cork the grips not only look good and feel good but have developed a very protective sheen very similar to putting shellac on all natural cork grips like those pictured in the next grips reviewed.
On the practical side of things since I was looking to relieve hand numbness and tendinitis pain these grips have played an important part in mostly eradicating the pain associated with that. Putting these grips on a mountain bike built for bike commuting and off road touring with a steel front rack has provided a nice solid feel to the sweeping handlebars while pedaling with a front pannier load.
Considering there are three points of contact between a rider's body and their bike (hands, butt and feet) resolving pain while at the same time adding a confident feel to a bike is a nicely added bonus.
Click on links provided or photos for information or purchase or continue reading for some all natural cork grips from Dimension.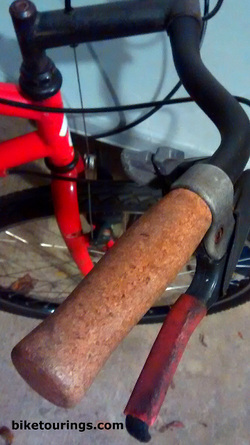 So called all natural cork grips are made with a synthetic foam and cork just as many of the popular synthetic cork bar tapes. This pair from Dimension is a very natural looking cork grip that wears and holds well.
After applying a few coats of shellac and allowing it to dry completely I used Loctite Spray Adhesive to ensure a good bond without slippage. These are very comfortable grips and I like the looks of them as well. After clear coating them they feel very durable and will be interesting to see how they look after a year of riding them unless I decide to sell the old Specialized Rockhopper.
There are of course several other natural cork grips but the Dimension Cork Grips have been around awhile and are well reviewed. Use link provided above for information or to purchase.
Links related to this topic:
Four Favorite Cork Grips