Bike folks looking to refresh their commuting kit or wanting to add to it for overnight camping trips or bike touring here are some must have items to help get you there and back safely and with less hassles. But first get yourself a good quality bike lock such as those from
Abus
for a more portable lightweight lock for bicycle touring we like the
Kryptoflex
.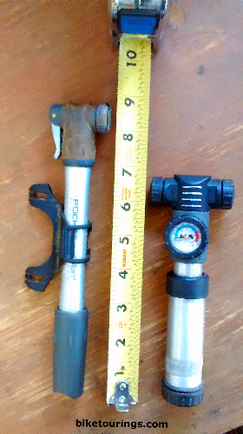 "They don't make a good mini pump" to quote my old bike school instructor in Oregon. That may be true but a mini pump shouldn't be compared to a frame pump for performance. Mini pumps are the "
it's certainly better than nothing" option that the teacher was inclined to agree with. That having been said there actually are some mini bike pumps that are better than others. Two that I have owned for several years are pictured at left. My tried and true Crank Brothers Road Pro has been replaced by the Power Alloy Pump with the only difference I could see is that the newer model is nine inches long like the Topeak Pocket Rocket. I like my older model better.
Any-how, it is a good idea to know-how to repair a flat prior to participating in any serious bike travel whether that be bicycle touring or commuting. One of the primary assets in one's preparedness kit is a pack along pump. Today while cleaning the shop and sorting through some old tool boxes I found these two old mini pumps. The
Topeak Pocket Rocket
and
Crank Brothers Road Pro
. Still working fine after dusting them off and testing their functionality. I like keeping a mini pump in my pack or bag in case I forget to put the frame pump on my grocery getter bike after having the pump on my mountain bike. Both of the mini pumps here are excellent quality, very small and lightweight perfect for an emergency or as a back up pump.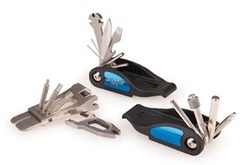 Got disc brakes? Lots of bike folks are finding disc brakes on road and commuter bikes and seems more of standard equipment than brakes reserved for mountain bike use. An excellent multi tool for disc brake equipped bikes is the
Park MTB3.2 Too
l.
Hoping to get one for my disc brake equipped commuter bike as just last night I had to fiddle with a slightly out of true rotor to eliminate friction for my ride. Sure an adjustable wrench can do the job just fine but I thought how convenient it would have been to have that little tool tucked under my saddle for just such an issue. Not to mention all the other 27 quality tools packed into the smaller lighter weight model of the old Park MTB3 Rescue Tool. More information at the
multi tool review
earlier this month.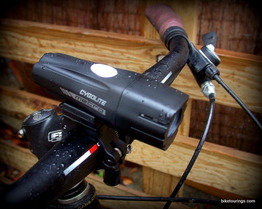 Even folks who do most of their commuting or touring daylight hours can benefit from having a quality set of front and rear bike lights. Bright, strobing lights that can alert drivers of you and your bike's presence.
Cygolite Metro 360
USB rechargeable with a 25 hour run time in pulsing or strobing mode is also exceptionally bright when used in the brightest solid light mode. The strobing steady function is unique to this light and is very convenient for being able to see the road or pathway while signaling drivers at the same time.
Cygolite Hotshot Taillight
also USB rechargeable and 200 hour run time is of exceptional quality and very well reviewed.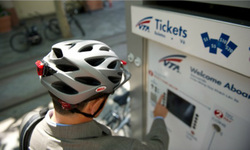 Hmm, guess there was some controversy about shoulding the "need" to wear a bike helmet. Whatever, I find them convenient at times for adding helmet lights, visor, rear view mirror, ya they can work pretty well for lots of things. Last year when I reviewed my ten year old Bell Metro Bike Commuting specific helmet I learned that it was being replaced by the Bell Muni. While the Muni may have some of the bike commuting concepts like that of the Metro it is a far cry from being anywhere near the helmet the Bell Metro is. I say "is" as I am confident of getting many more years of use from my old helmet.
What the Muni lacks the quality and features of the Metro it is very reasonable considering it's about half the price the Metro was ten years ago. There have been some mixed reviews regarding sizing but reading over the information can help in size selection.

Happy Holidays from our bike family to yours.