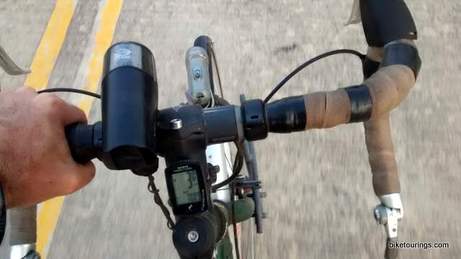 Really doesn't seem like it was all that long ago when I fitted a
Cateye Strada Cadence
bike computer to my touring bike. Although, by the looks of that old Cateye Opticube front light, I suppose it's been a few years.
With all the app happy folks creating GPS apps for today's "don't leave the house without your phone" that's gotten bike folks enjoying social mile tracking groups like Strava and Map My Ride I continue to use my bike computer as the preferred method of tracking my miles.
Having an odometer on your bike is like knowing when a car needs an oil change. I can easily reference it for periodic bike maintenance and having owned and been riding this bike for so many years I have a good idea as to what it needs and when. It worked very well for a recent chain replacement. After checking the odometer I thought, hmm, better check for chain wear and I had caught it just in time. Ever experience excessive chain wear that causes gear wear on the cassette? Then put a new chain on and have it skip? With an odometer on the bike you can find which chains wear the longest and how frequently you might need to replace that chain or try upgrading. Not to mention keeping that cassette intact. My
Cateye Strada Computer
is approximately ten years old have had to replace the batteries in it twice and still works with the same accuracy as it did when it was new. I haven't had to rewire it or anything. There isn't a cell phone app that will claiming that any time soon.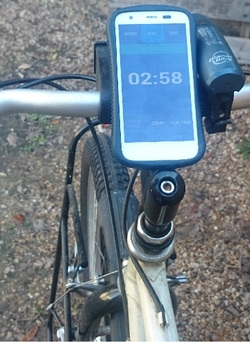 Owning several bikes and wanting to track miles is when I appreciate having a simple bike app. I have tried a few including some of the social ones and finally found one I like in the
bikey app.
A simple, easy to read display I have used to track commuting times for route selections and other references such as comparing various bike's comfort level and speed over the same route. It's a free app without ads and seems to use less battery than any other gps tracking bike app I have tried as well as being very accurate. I like the pause and resume features when running errands that is extremely simple and easy to use without glitches.
Though
bikey
works fine in my pocket or handlebar bag finding a sturdy stem or handlebar mount for using navigation assistance with google maps was another matter. By far the best one I have found thus far is the
Minoura Handlebar Phone Grip
.
Reviews of other similar products complained of the holders snapping over bumps on rides or worthless for trail riding. Photo below shows the sturdy features from Minoura.
Other bike computers I like due to the optional features such as temperature display, wireless options and easy to read display screens is the

Planet Bike Protege 9.0

available in both

Wireless

and

Standard Wired Installation

. Both models include the following features:

Planet bike protege 9.0 9-function bike computer with 82-centimeter wire-mounting kit for the front wheel and case
Functions include current speed, speed comparator, ride time, trip distance, dual odometer (for two wheel sizes)
Four-line macromonitor lcd displays up to five pieces of data at a glance
Computer fits 25.0 to 31.8 millimeter handlebars, and magnet fits up to four-millimeter bladed spokes
Ultrasonically welded to be completely weatherproof; lifetime warranty

Nice features for winter bike commuting.