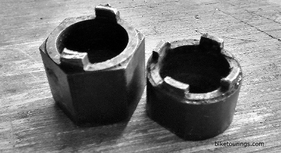 Working on older bikes can be a bit challenging at times. Rust and corrosion contribute to a majority of failed projects either by damaging parts and components in an effort to repair or simply giving up on the stubborn old parts that have succomed to neglect or obsolescence.

Having proper tools for bike repair tasks is obvious to anyone who has attempted to work on a bike with a crescent wrench and pliers. Knowing which tool is most appropriate is when knowledge and experience is most appreciated.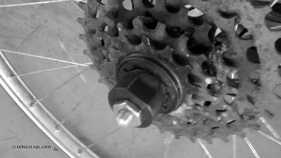 It's not a common task to remove an old Suntour freewheel so while I observed the initial efforts to remove the freewheel with the appropriate tool I noticed that the tool wasn't being held in place with an axle or quick release skewer. After several attempts to remove the freewheel and consequently having the tool slip out of the freewheel to be removed I finally grabbed an old bolt on axle to hold the tool in place. This was a particularly stubborn freewheel to remove so a quick release may not have done the trick. I have both Suntour freewheel removal tools from Park Tool. The
FR-3
has four splines and the FR-2 (photo above left) has two. For real stubborn parts the four splined FR-3 works better.
Whether it's an old Shimano freewheel or Suntour I have had this big old adjustable wrench wrapped with foam rubber and tape for just such an occasion. Once the freewheel removal tool is held securely in place, using the wrench and a mallet always does the trick.

Photo at left shows successful removal of the stubborn old part and now the old Peugeot has a brand new six speed freewheel from Shimano.

So, if you ever find yourself having to remove an old Suntour freewheel don't forget to hold the tool in place with either a quick release skewer or and old bolt on axle.