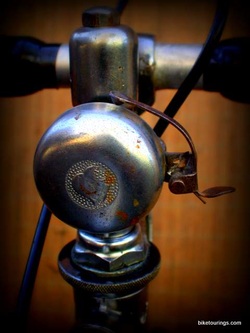 One of the joys of owning a bike is personalizing it with practical accessories and since most all accessories for bike commuting are designed with some form of practical advantage it's easy to do. With new technological advancements and efforts to make folks app happy there are still some things that an app would have a very difficult time replacing for example a bike bell.

Accessories and gear for bikes often seem to be excessive and expensive. Here is one item that can be purchased very inexpensively of good quality and is both fun and practical. Ever heard of a bike bell? Sure, most have and might think of them as silly, kinda like putting streamers on the handlebars. However, bike bells are a very practical accessory especially for bicycle commuting on shared use paths and to alert fellow bike travelers of your presence.

Bike bells are fun, they come in a variety of shapes and sizes with different simple mechanical methods of creating the renowned sound which everyone recognizes as the presence of a bike. It's a friendly sound, not at all like a car horn, though air horns are available but are prone to wearing out and are not as dependable as the simplicity of a bike bell. Of the top five bike commuting bells there are three designs consisting of lever strike bell, ratcheting type bell and spring arm action

Here's some information on the Symbolism of bells: "Bells are also ancient symbols of protection and ringing them have long been considered a way to ward off negativity". And that is precisely the intention of using a bell on one's bike.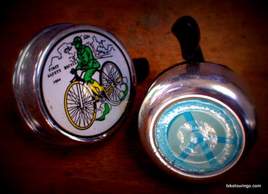 Some of today's bike bells are a bit more sophisticated with "ratcheting" type of action used by pulling the tab or lever with index finger. Bells pictured at right though they use this same type of mechanism sound very different with some being louder than others due to the shape and size of the bell and the washers which roll around inside the metal casing and strike upon a small ridge in the bell housing's casing. There are also methods for making these types of bells louder if necessary. I won't get into all that, our friend has already looked into that at
Majster Kowo site.

Here's a quote from
"how to make a bike bell louder"
article.
"
I can't imagine getting around the city on a bike without a bell.
I tried using a rather loud bike horn for almost a year, but it didn't quite work out, unfortunately. Yes, it was much louder than any bell, but pedestrians wouldn't move away upon hearing it, instead choosing to stop and look back to check what all the noise was about. ;) The bell sound is indeed rooted deeply in peoples' minds, and there doesn't seem to be a better warning signal around for a cyclist to use. Moreover, the bell sound is relatively high-pitched, so it's much better heard amidst the city buzz than the horn, the sound of which gets lost within the noise of passing cars
".
Click on any of the following photos for information or purchase of any of these quality bike bells for commuting.
| | |
| --- | --- |
| A favorite with many bike commuters is the simple lever strike design like the one pictured above from Crane Suzu | Washers can be changed out as shown in photo for making a bicycle bell louder in traffic for commuting. |