Simple Chain Maintenance Kit for Bike Commuting
There is so much information regarding chain maintenance it can be daunting for new comers to bike commuting who simply want an efficient and affordable method of bike chain maintenance. As Sheldon Brown noted it is perhaps the most controversial of bike maintenance topic there is. Well, if you'd like to jump ahead and research all the definitions and terms referring to why chain stretch is a misleading term, what's a good chain and why, what cleaners to use and which lubes to avoid based on wet or dry conditions with explanations of chemical detergents and how they can harm your chain, etc. then skip this article and go to links provided at the end of this post.
If you would like to know a quick, quality method for maintaining your commuter bike's chain then use the following methods we have used for years in servicing many happy customers' bikes. Whether they were hard core road bike racers or fair weather bike commuters we never had a dissatisfied customer.
There are basically three things to list for drivetrain and chain maintenance: Clean, Check Wear and Lube. How often? When a new chain is put on a bike it is recommended to not clean and lube the chain until the original packing grease has been worn away. At the first sound of a dry squeak clean and lube it. After completing that routine a couple times you will get to know you're own particular schedule for chain maintenance. Many factors contribute to how frequently your chain will need attention and varies from bike to bike depending on how many miles you ride, on or off road, wet or dry,etc. A chain cleaning and lube technique which I am sharing here has worked for all types of bikes regardless of riding conditions. In my experience it is not only the quickest and easiest way to clean the chain it is also the longest lasting between applications as well as providing long life to chain and all drivetrain components.
Scroll down to see photos that help to illustrate each step of this simple and easy process.
If you don't have a bike repair stand or the space for one, you can get a twenty dollar
Sunlite Bottom Bracket Type Bicycle Display Stand,
oh and a five gallon bucket to store the following list of items in. Just yesterday I was out on one of my bike commutes and found a nice quality shop rag and felt it was a good idea to share this tried and true chain cleaning technique for bike commuters.
Degreaser: For Chain Cleaning we use straight Simple Green which is both non toxic and biodegradable and can be purchased by the gallon and dispensed with a spray bottle or added to a Bike specific Chain Cleaner.
Rags: lint free and durable easy to find by the bundle at auto supply stores and are very inexpensive. After use, rinse well, soak with simple green for degreasing and place in bucket of warm to hot water. Pull the rags out when convenient, rinse, ring dry and re use.
Chain Cleaning Tool: After the kids in the shop kept dropping and breaking our Park Cyclone Chain Cleaning Tool I decided to look for a more durable much less expensive alternative to routinely replacing a $25 maintenance tool. Finish Line's Grunge Brush (shown in photo above) turned out to be the best tool available. Using a spray bottle filled with straight Simple Green profusely sprayed on to the chain, chain rings and cassette gears with a spray bottle and running the chain through the Grunge Brush in two directions worked to clean even the worst chains. Then spray again with a bottle of half Simple Green and half water use a rag by gently pinching the rollers and running the chain through the rag until clean. Fold rag in half, holding either end and clean between cassette gears. It may require some practice to get a feel for moving the cassette in the free wheel direction with the rag to thoroughly clean the cassette. In a shop when a bike is in a repair stand this is very easy. If you don't have a repair stand, remove the rear wheel after having cleaned the chain if the gears appear to need that. Often times after the initial soaking with Simple Green Degreaser simply rinse off with a garden hose. Before applying any lube wait several minutes for everything to dry or repeat the described cleaning methods with a clean dry rag.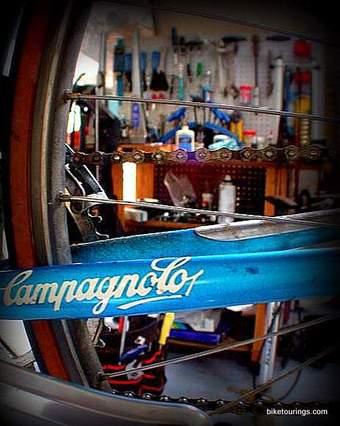 Check Chain Wear: It's a good idea to check for chain wear with a tool like the Park Tool Chain Wear Indicator CC-3.2 which costs about ten bucks and comes with instructions on how to use.
Lube: There are two to use which when used in the way described will last a very long time especially if you're only maintaining one bike for commuting. Park Tool CL-1 Synthetic Blend Chain Lube comes with a small straw like applicator excellent for getting lube into pivot points of derailleurs without waste and of course can also be used on the chain. For chain lubrication Boeshield T 9 is by far the longest lasting lube for wet, dry, road or trail conditions. One drop applied to the top of each roller is plenty. After lubricating every roller on the chain either very gently remove only some excess with a rag or leave all the lube for wet, muddy conditions. Wait two hours for the lube to dry before riding. When the method described here is used accurately and thoroughly you can get hundreds of miles between chain maintenance schedules for typical bike commuting or bike touring conditions. Boeshield T 9 Travel Size Bottle is also available for effective long lasting chain maintenance while bike touring.
| | |
| --- | --- |
| | With the steel bottom bracket bike stand in place holding rear wheel up the chain is passed through the Grunge Brush after having soaked the chain and gears thoroughly with Simple Green in Spray Bottle. The bucket is for sitting on. |